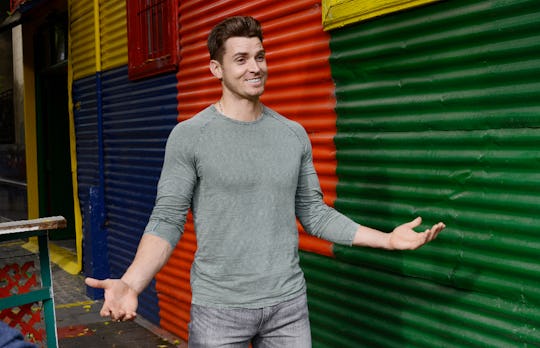 Veronica Gambini/ABC
Will Luke Be On 'Bachelor In Paradise'? Fans Really Want Him To Find Love
One of the best parts of watching The Bachelor and The Bachelorette is speculating about which eliminated and former contestants will cross over and make appearances on the other Bachelor Nation shows. We've spent a lot of time thinking about which of JoJo Fletcher's cast-off men from The Bachelorette Season 12 might be the 2017 Bachelor, but the question of which Bachelor Nation alums will end up on Bachelor in Paradise is another fun one to consider. Fan favorite Luke Pell is a definite frontrunner to be the next Bachelor, but what if he's headed somewhere more tropical instead? Will Luke be on Bachelor in Paradise?
It's certainly a possibility. Bachelor in Paradise contestants are usually announced and confirmed in several waves – which makes sense, given the show's format, where new contestants show up throughout the season, two by two. We've already gotten word about several of the confirmed men from JoJo's season heading to Paradise, including the season's meat-inhaling villain Chad Johnson, Chad's nemesis Evan Bass, barber Vinny Ventiera, and firefighter Grant Kemp. Other rumored cast members like my personal #1 fave Wells Adams, Christian Bishop, and Canadian Daniel Maguire have yet to be officially confirmed.
There haven't been any rumblings or rumors about Luke heading to Paradise as far as I can tell, but that's probably because he's still technically in the running for JoJo's heart. For the most part, though, fans and bonafide Bachelor Nation experts (like Reality Steve) are far more certain that he'll end up the next Bachelor – unless JoJo chooses Luke over her obvious frontrunner, Jordan Rodgers, which is a total possibility, as well.
On the other hand, so many viewers adore Luke that they don't care where he ends up – as long as they get to watch him find love on TV.
It makes sense that so many people are invested in seeing Luke find happiness. He's clearly very into JoJo and there have been virtually no rumors circulating that Luke is in the competition for the wrong reasons or has been anything other than genuine with her.
Personally, I just can't quite see Luke on Bachelor in Paradise. He'd be great as the 2017 Bachelor, and he consistently has seemed more interested in finding genuine love rather than competing or engaging in drama – which is kind of what Bachelor in Paradise is all about. Earlier this year, in an interview with Glamour, Luke described the "rules" he'd set for himself in appearing on The Bachelorette:
"I just want to be myself and not try to over-edit just because I'm in front of the camera. [Basically], just be me. If she's good with that, great. If the world's good with that, great. I've learned from other relationships that there's this time period where you protect this image of who you are, and I think that some people—a lot of people—try that, from the first date on."
To me, this doesn't sound like a guy who'd be interested in a show where the entire point is swapping out significant others left and right. He's too low-key. So while Luke might wind up landing in Paradise if we see him get eliminated by JoJo in the coming weeks, I really doubt it'll pan out. I'd put my money on seeing him as the 2017 Bachelor, though.