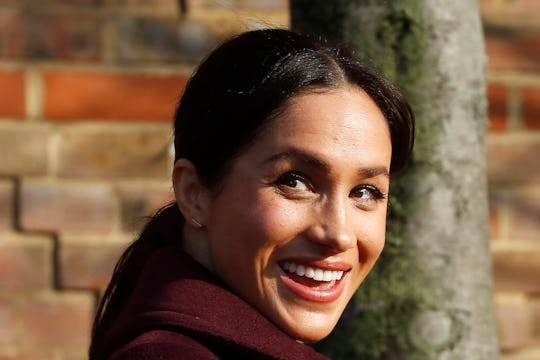 Chris Jackson/Getty Images Entertainment/Getty Images
Here's What We Know About Megan Markle's Royal Childcare
Meghan Markle was a girl who was born and raised in sunny California. First by her parents together and then by her single mother, Doria Ragland. She was raised as an only child (yes, she did have two older half siblings but they weren't around and let's not even go there today, shall we?), generally with one adult. So this whole being pregnant with the massive royal family all breathing down her neck thing must feel incredibly foreign to her. Their traditions, their expectations; what will she make of them when she becomes a mom? Will Meghan Markle hire a nanny, or will she go a different route?
The Duke and Duchess of Sussex are expecting their first baby together next spring, less than one year after the two were married in St. George's Chapel in Windsor Castle in May. As soon as it was confirmed that Markle was expecting a baby, rabid speculation arose about every detail of the new little prince or princess. Everything from the baby's possible name (which even Prince Harry's father and heir to the throne Prince Charles recently joked about on a trip to Australia) to the gender and beyond has been discussed ad nauseum. And one of the more recent topics for debate? Whether or not Meghan Markle might hire a nanny.
Both Meghan Markle and Prince Harry have shown they have a real affinity for little kids, which has me thinking they will want to spend as much time as possible with one of their own. But realistically speaking, this isn't exactly the way things are done in the British royal family, are they? Prince Harry's older brother Prince William and his wife Kate Middleton employ nannies to help out with their three children, 5-year-old Prince George, 3-year-old Princess Charlotte, and 8-month-old Prince Louis. In fact, they've been using the same nanny ever since giving birth to Prince George, Maria Teresa Borrallo, who is reportedly very close to the kids.
There's also the fact that Prince Harry had a nanny as a child and clearly loved the experience of having an extra person in the palace who cared for him. So much so that he took Meghan Markle to meet his beloved childhood nanny, Tiggy Pettifer (Tiggey Legge-Bourke before she was married), last January after the two became engaged. Pettifer has remained a close part of both of the royal princes' lives, even attending the wedding of Prince William and Kate Middleton in 2011 while her son Tom acted as pageboy.
Realistically speaking, it would make sense for Meghan Markle to employ a nanny. The feminist and activist has a lot on her plate as a working member of the royal family, and there would be no shame in asking for some help. Especially since the entire royal family has hired nannies throughout history.
I think people have a tendency to look down their noses at anyone who would hire a nanny. But isn't it possible that introducing another person into your child's life who you trust to nurture them and help care for them is a good thing?
For Meghan Markle, a girl who grew up as an only child, having a nanny and an entire family of people who are there for her and her baby will probably feel like a true blessing.
This first-time mom wants to have a home birth, but is she ready? Watch how a doula supports a military mom who's determined to have a home birth in Episode One of Romper's Doula Diaries, Season Two, below. Visit Bustle Digital Group's YouTube page for the next three episodes, launching every Monday starting November 26.