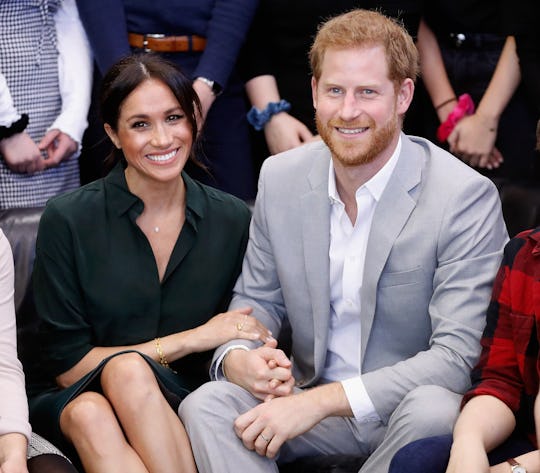 Chris Jackson/Getty Images Entertainment/Getty Images
Important Question: Will Meghan Markle & Prince Harry's Royal Baby Be American?
So far, October has been one exciting month for the British royal family. First, Princess Eugenie married her longtime love, Jack Brooksbank, in the second royal wedding of the year. And now, Kensington Palace announced this week that Prince Harry and Meghan Markle, the Duke and Duchess of Sussex, are expecting their first child. Not surprisingly, the royal baby news has sent social media into a tailspin, and there's one question on everyone's mind: Will Meghan Markle's baby be American? Their citizenship status may take months to find out.
On Monday, Kensington Palace released a statement on social media revealing that Markle is pregnant with her first child with Prince Harry, who she married in May of this year, and is due to give birth in the spring. The royal couple has "appreciated all of the support they have received" since their May wedding, Kensington Palace said in its statement, and "are delighted to be able to share this happy news with the public."
Whether or not their royal baby will be a citizen of the United States, though, will depend on a number of factors. Namely, it could come down to whether or not Markle chooses to retain her American citizenship after becoming a British citizen, according to Newsweek.
Under U.S. law, children born outside of the country to American parents are entitled to gain American citizenship if said parent lived in the United States for at least five years — two of which must have occurred after the age of 14, according to TIME. Markle was born and raised in Los Angeles, California, and had lived in the West Coast state up until last year, which means her child, who would be seventh in line to the throne, would be eligible to apply for U.S. citizenship, as TIME reported.
But the Duchess of Sussex's own citizenship status is in question. Markle has said that she plans to become a British citizen, which a Kensington Palace spokesperson had confirmed to CNN. But there's no indication whether or not she would give up her American citizenship in the process. Not that she has to, according to royal expert Marlene Koenig, who told Town & Country:
If she remains a U.S. national, her children will have dual nationality just like Madeleine of Sweden's children.
In other words, if Markle does maintain her U.S. citizenship, her child would be the first line in succession to hold dual citizenship, according to Newsweek.
But the more pressing question is: Could the Duke and Duchess of Sussex's child run for President of the United States and be in line for the British throne at the same time?
The answer is yes, technically.
Although U.S. law states that people born outside of the United States must be "natural born citizens" in order to run for the highest office of the land, the phrase itself does not need to be interpreted literally. Harvard Law Review has clarified that the original meaning of "natural born citizen" also includes people born outside of the country who have an American parent. (As Town & Country pointed out, two words: Ted Cruz.) So, technically, the royal baby could throw their hat in the ring for presidency when they're old enough to do so.
People, start working on those blended flag designs.