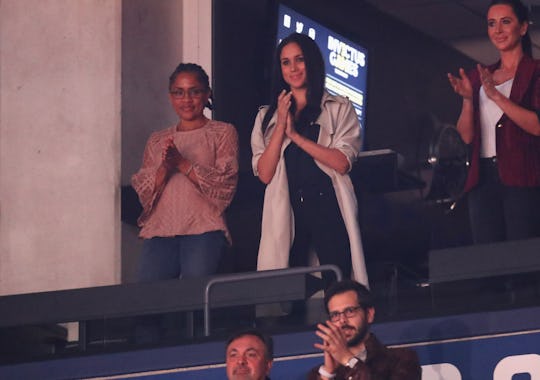 Chris Jackson/Getty Images Entertainment/Getty Images
Meghan Markle's Mom May Have Just Earned A New Role At The Royal Wedding
Meghan Markle is just days away from making history. Not only is she marrying a terribly sweet fella who clearly loves her to the moon and back, but he also happens to be a member of the British monarchy. As a divorced American actress raised by a single mother, this is seriously new territory for the residents of Buckingham Palace. And it looks like a little last-minute Markle family drama might be breaking down another royal wedding barrier; the question of who will walk the bride down the aisle. There are rumors that Meghan Markle's mom will walk her down the aisle, and I genuinely hope she does because that would be so amazing.
There was a different plan in place originally, of course. Thomas Markle, Meghan's father, was meant to be walking his daughter down the aisle at St. George's Chapel in Windsor Castle on Saturday to marry Prince Harry. As Kensington Palace announced on May 4, according to People; "On the morning of the wedding, Ms. Ragland will travel with Ms. Markle by car to Windsor Castle. Mr. Markle will walk his daughter down the aisle of St George's Chapel. Ms. Markle is delighted to have her parents by her side on this important and happy occasion." Unfortunately, it looks like that might not happen. Thomas Markle, who lives in Mexico, has vacillated between telling media outlet TMZ that he will attend his daughter's wedding as planned and that he won't be able to because he is expected to have heart surgery.
It's a pretty sad state of affairs, especially considering the late date. A Kensington Palace spokesperson issued a statement about the family drama on Monday, saying according to Us Weekly:
This is a deeply personal moment for Ms. Markle in the days before her wedding. She and Prince Harry ask again for understanding and respect to be extended to Mr. Markle in this difficult situation.
But perhaps things will work out for the best in the end... Doria Ragland, Meghan Markle's mother who raised the actress on her own since she was six years old, has arrived in London for the wedding and is expected to walk her down the aisle, according to The Telegraph.
While Kensington Palace has yet to release a statement confirming who will walk Meghan Markle down the aisle, this makes the most sense, in my ever humble opinion. Doria Ragland, who is a social worker and a yoga instructor, has already met Prince Harry and is obviously very close to her daughter. Even when Thomas Markle (who has never met Prince Harry) was set to walk Meghan down the aisle, Ragland was expected to be included in a lovely way that was not traditional to the royal family; she was going to be accompanying her daughter to the church in a horse-drawn carriage.
I mean, is it that much of a stretch for her to walk her down the aisle?
I know that there has never been a royal wedding where a mother has walked her daughter down the aisle, but let's face it; it's actually not even a little uncommon anymore. Especially considering the changing way our culture is raising children... increasingly, in single parent households. Doria Ragland's loyalty to her daughter has been steadfast from the outset of her relationship with Prince Harry. Markle herself has called her mother one of the women she admires most, and told Glamour last August that she always finds "solace in her support."
So to me, the real question isn't whether or not Ragland should walk her daughter down the aisle at her wedding on Saturday. The question at hand should be, why wasn't it always going to be her in the first place?