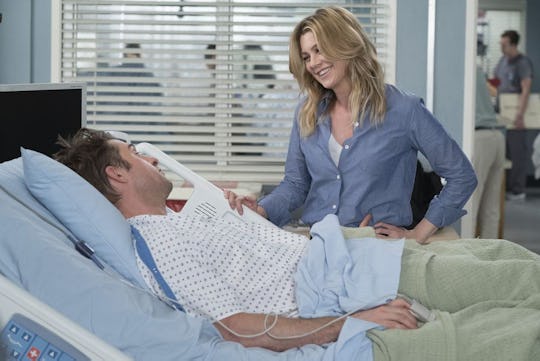 Eric McCandless/ABC
Meredith May Be Getting A New Love Interest On 'Grey's Anatomy'
There will never be a love affair as great as the one that occurred between Meredith Grey and Derek Shepherd on Grey's Anatomy, which is why many fans still aren't over McDreamy's death. But just because Meredith lost her great love doesn't mean she shouldn't be open to falling in love again. Enter her new patient, Nick Mars, who definitely sparked a flame in Meredith, making many fans wonder: will Meredith and Nick get together on Grey's Anatomy?
Unfortunately, as long as Nick is Meredith's patient it doesn't look like she'll be willing to cross that line. At the end of the last episode, "One Day Like This," Meredith told Alex all the reasons why Nick was great but ended with, "But he's my patient." Meredith knows firsthand how badly falling in love with your patient can go. Just look at Denny and Izzie or Teddy and Henry for proof of that fact. Neither one of those stories ended well and the last thing Meredith needs is another big heartbreak.
Instead, it's probably best Meredith just keeps doing what she's doing, focusing on her work and her family, and taking a break from guys altogether. But is that really what Meredith wants or is it just what she thinks she needs?
There were definitely feelings there between Meredith and Nick, so perhaps if he's actually fully recovered from his kidney transplant and can leave the hospital in one piece, Meredith will give it a shot. However, Nick lives in Minnesota and he's already told Meredith that the reason he decided to become a transplant surgeon was because it gave him the opportunity to move around, which he loves because he can't stay still.
Meredith, whose whole life is pretty much cemented in Seattle, is the total opposite. Meredith can't just pick up and move somewhere with her three kids nor does she probably want to regardless. Everyone she loves is in Seattle, so leaving isn't really an option, and would Nick be willing to move for her? Sure, maybe this is jumping ahead a bit since they haven't even been on a date yet, but this is the reality. What would be the point in dating Nick if it has no future? If Meredith wanted just a fling she could easily have that; she may be a single mom of three but she still has needs and desires just like everyone else. If she's looking for something serious or someone she can build a life with, then Nick may not be it, unfortunately.
But then again, who knows? Anything can happen on Grey's. Maybe Nick will get a job at Grey Sloan Memorial Hospital for some reason and he and Meredith will start dating organically, fall in love, and live happily after ever. Okay, the last bit is probably a stretch for Grey's but you catch my drift. Perhaps this is only the beginning of another epic love story for Meredith and isn't that what she deserves? Meredith has been through a lot, more than anyone should ever have to deal with in her lifetime. She's pretty much owed another great love story. Hopefully, the showrunners decide to give it to her.
If not, Meredith has already proven to be an independent woman who can handle her business on her own. With her sisters and Alex by her side, Meredith is perfectly comfortable in her life right now. She doesn't need a man to be happy. That being said, it'd still be nice if she had one.
Check out Romper's new video series, Romper's Doula Diaries:
Watch full episodes of Romper's Doula Diaries on Facebook Watch.