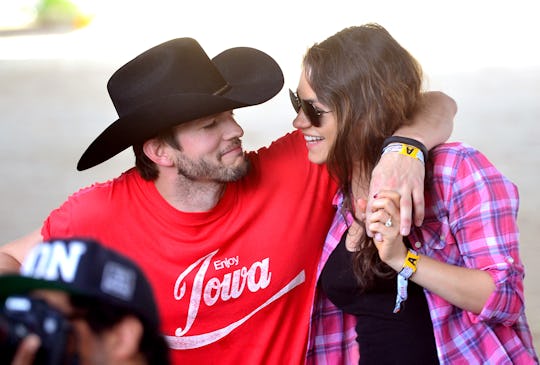 Frazer Harrison/Getty Images Entertainment/Getty Images
Will Mila Kunis & Ashton Kutcher Have A Boy Or A Girl? They Just Revealed The Secret
It looks like Mila Kunis and Ashton Kutcher are not interested in over-the-top baby gender reveals. While modern parents are cutting into colored cakes at lavish parties or shooting at boxes of confetti, fans who want to know if Kunis and Kutcher's baby is a boy or girl just needed to tune in to a low-key interview on The Today Show. Kutcher appeared on Thursday morning to promote Season 2 of his Netflix comedy, The Ranch, and when host Savannah Guthrie asked how Kutcher and his wife were preparing their daughter, Wyatt, for her new sibling, he dropped the news in the most casual way yet:
She points at Mila and she's like, 'Baby brother' when she points to the belly. And then she points to Dad, and she goes, 'Beer.' So I think she gets there's something in the belly, but I don't quite think that she knows that it's not going to be a plastic doll yet.
Did you catch that? They're having... Not a doll! Oh, and the human baby is a boy. Cool. Kutcher also shared that while he and Kunis were hoping to dress up as Star Wars characters for Halloween, Wyatt wasn't too keen on the idea of a Kylo Ren costume, and is leaning towards Peppa Pig. While Kutcher's idea is cool, not gonna lie, I would kill to see him dressed as Daddy Pig.
Kunis and Kutcher met in 1998 while co-starring on That '70s Show. Although all actors auditioning for the show were supposed to be 18, 14-year-old Kunis conned her way through the door by telling producers she'd be 18 "on my birthday," while neglecting to mention just which birthday she meant. Kutcher, meanwhile, was 20 years old and a former model. Kunis told People years later that she had "the biggest crush" on him, and was "so nervous and uncomfortable" when a script called for the pair kiss. Kutcher had no idea about the crush, or the fact that the kiss was actually her first, on-screen or off.
The two never got together in real life while filming, and it wasn't until 2012 that the sparks started flying. In 2011, Kunis told People, she ran into Kutcher at an awards show, and "he just turns around and it was literally like if we were in a movie, the music would start playing and the violins would go. I think for the first time ever he took my breath away." They began a casual relationship, ironic given that they were each currently starring in movies about casual hookups: No Strings Attached (Kutcher) and Friends with Benefits (Kunis). Eventually, things turned serious, and the couple had Wyatt, who just turned two, before marrying in July 2015. Baby Boy Kutcher's due date is still a mystery, but our best guess is sometime between October and December. Those who can't wait to find out his name might want to keep an eye on Twitter; Kutcher reserved Wyatt's Twitter handle a month before she was even born; maybe he'll do the same for her brother.