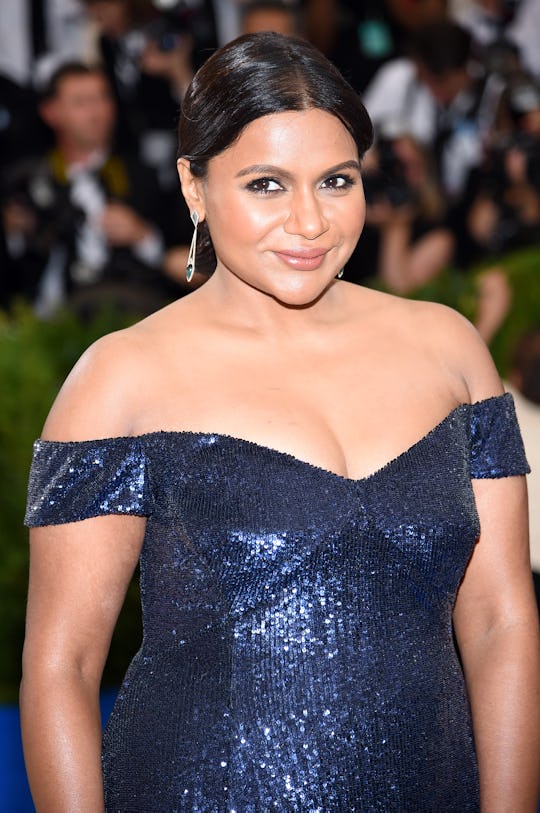 Dimitrios Kambouris/Getty Images Entertainment/Getty Images
Will Mindy Lahiri Be Pregnant In 'The Mindy Project'?
Following the fantastic news that Mindy Kaling, the comedian and showrunner behind TV Land's favorite OB-GYN, is pregnant, fans were bound to ask whether her pregnancy coincided at all with the filming of her current show's last season. In other words, will Mindy Lahiri be pregnant in The Mindy Project this season? The short answer is that it seems likely.
Even before this news, fans were geared up for the sixth and final season of the show. Season 5 concluded with Lahiri marrying Ben, her boyfriend, and then apparently feeling panicked about that decision. So Season 6 was already set up for drama. Layered on top of that was a lot of emotion about the show ending. In March, Entertainment Weekly reported that Season 6, premiering in September, would be The Mindy Project's last, and fans are still not OK.
It's hard to overstate how beloved The Mindy Project or its titular character, obstetrician/gynecologist Mindy Lahiri, are, and it's easy to see why. In Lahiri, Kaling has created a character who feels familiar and utterly transgressive at the same time. Kaling plays an Indian-American doctor, a young woman on the lookout for Love, but also a single woman who is, for all intents and purposes, very independent. Her profession and the resulting setting — an OB-GYN practice — is one that once would not have been considered fodder for network TV. In other words, it's to some degree a show about vaginas, starring a female comedian of color with the audacity to write and showrun her own successful sitcom. And it's hilarious. What's not to love?
Kaling's newly announced pregnancy just adds another layer of anticipation to Season 6, since it seems like she will be pregnant during filming. The Hollywood Reporter noted in June that writers had returned to the show's writers room several weeks before, which means it wasn't shooting before then. Kaling is probably at least 12 weeks along, as most people wait until after the first trimester to reveal their pregnancies. If the show is shooting now, it's possible that Kaling could hide her pregnancy throughout filming, but towards the end of the summer, that could become difficult.
All of which points to the strong possibility that Mindy Lahiri will also be pregnant in our final months with her. What would that mean for the show, though? Are Mindy and Ben staying together to raise their kid? Will she end it but embark on a beautiful co-parenting relationship with him? Will she strike out on her own, realizing that she has everything she needs to do this solo? Now fans have the best possible reason to stand by Dr. Lahiri until her last delivery is complete.