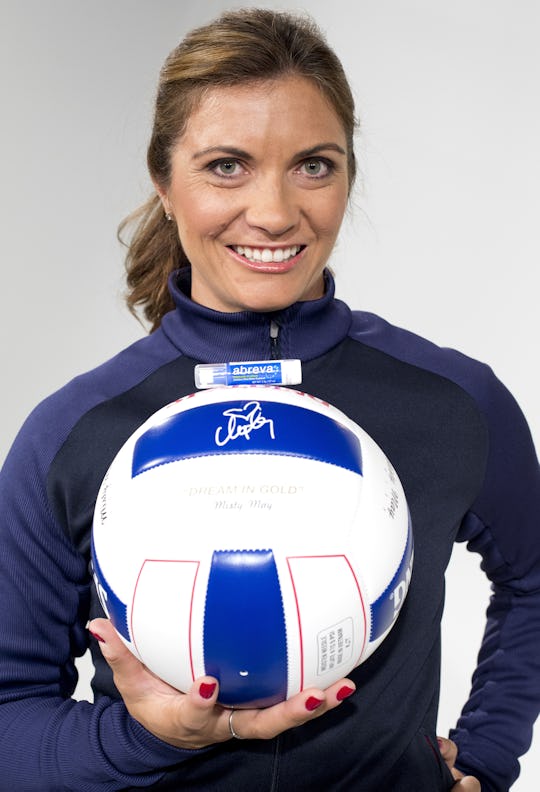 Brian Ach/Getty Images Entertainment/Getty Images
Will Misty May-Treanor Be At Rio? She'll Be Spending Quality Time With Family
The Rio 2016 Summer Olympic Games are here, and many are likely wondering about the whereabouts of their favorite star athletes. For example, beach volleyball fans may be asking themselves, "Will Misty May-Treanor be at Rio?" It's a good question to ask considering the retired Olympic volleyball star is a three-time beach volleyball Olympic gold winner. But, as it turns out, May-Treanor will enjoy being a spectator this year – watching the Games from the comfort of her own home.
"I haven't actually been a spectator since 1996, so as an Olympic athlete when you're competing, during those two weeks, you're so focused you don't really get a lot of time to go out and see the other sports," May-Treanor said in an interview with Salt Lake City's KUTV. "So I'm looking forward to being able to turn on the TV and watch the different variety of sports."
May-Treanor, a mom and wife to Matt Treanor, former Major League Baseball player, told KUTV that she's looking forward to watching other sports like, swimming, with her daughter this time around.
As for her former Olympic gold winning partner, Kerri Walsh Jennings, she'll be returning to the Games in hopes of winning her fourth gold medal – this time with her new partner April Ross.
May-Treanor retired in 2012 following the Olympic Games, but she has occasionally played competitively since. In June, she took the position as director of volleyball operations at Long Beach City College. The Olympic athlete explained in a Facebook post that coaching has long been a "passion," and that she was excited to follow her parents' footsteps to coach at a community college, as opposed to a major university.
In 2010, May-Treanor released an autobiography called Misty, Digging Deep in Volleyball and Life. According to the Associated Press, in an uncorrected proof of the book, the Olympic star shared how her mother's death in 2004, made her realize how precious life and family time truly is. "Her death taught me a valuable lesson: Life is short and precious," the uncorrected version reportedly read according to AP. "You're not guaranteed tomorrow. Unfortunately, she had to die for me to learn that."
The autobiography reveals her parents' battles with alcoholism, and how she was sexually assaulted in college, the AP reported. She also shared that her "biggest goal for the future is motherhood."
"I'll tell you right now, becoming a mother would rank as my greatest accomplishment of all," she wrote.
May-Treanor's daughter, Malia, was born in June in 2014. From the sounds of it, Malia will probably enjoy watching the Olympics with her mom, who is an incredible, super Olympian herself.