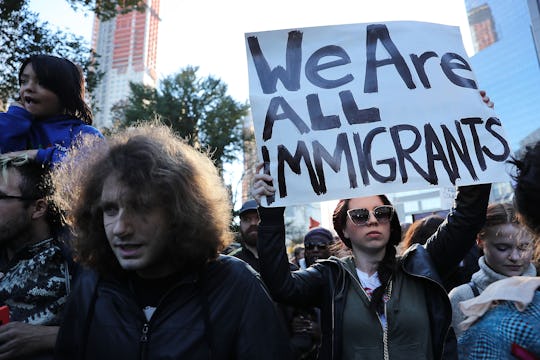 Spencer Platt/Getty Images News/Getty Images
Will Muslims Have To Register Under A Trump Presidency? A Bush-Era Registry Is Possible
During the Republican primaries last December, now-President-elect Donald Trump notably called for a "total and complete shutdown of Muslims entering the United States," adding, "until our country's representatives can figure out what is going on," in a campaign press release cited by Fortune magazine. Trump later altered his stance, saying the ban would instead entail "extreme vetting" – but despite him slightly walking back on his initial stance, the anti-Muslim, and anti-immigration rhetoric was, and continues to be, heard loud and clear. And the reports of hate-fueled attacks against Muslims since Trump was elected only further adds to the concern that rhetoric has led to. So, will Muslims have to register under a Trump presidency? Trump's advisor, and Kansas Secretary of State, Kris Kobach, has talked about a possible reinstatement of a George W. Bush-era database called National Security Entry-Exit Registration System (NSEERS), which overwhelmingly affected Muslims and Arabs.
In an interview with Reuters, Kobach revealed that Trump's administration-in waiting could reinstate NSEERS, which was a national registry of immigrants and visitors who enter the United States on visas from countries deemed dangerous or high-risk.
Kobach helped design the program himself under Bush's Department of Justice administration shortly after the Sept. 11, 2001 attacks.
But as Vox's Dara Lind pointed out, NSEERS targeted Arab and majority-Muslim countries, in which 24 out of the 25 countries on the special registration list were majority-Muslim. As CNN reported, males from the 25 listed countries, 16 years old and older were forced to register.
According to Vox, over the course of a decade, 80,000 men were registered in the database and were forced to go to immigration officers for fingerprinting and interviews, among other routine check-ins. As a result, by 2003, some 13,000 people were in court proceedings for deportation, with most of them being detained for civil violations, including violating the terms of their visas, Vox reported.
The American Civil Liberties Union wrote this about the program's effects in 2011:
The program was repeatedly condemned by the United Nations' Committee on the Elimination of Racial Discrimination as resulting in widespread profiling of tens of thousands of immigrants from Arab- and Muslim-majority countries.
Under President Barack Obama's administration, the Department of Homeland Security suspended the program by removing the list of countries listed in the registration in 2011.
Jason Miller, Trump's communication director of his presidential transition team, released a statement to CNN on Thursday denying advocating "for any registry or system that tracks individuals based on their religion." Miller also added that Trump will release "his own vetting policies after he is sworn in."
As Trump continues to assemble his team, anti-Muslim hateful crimes in the United States unfortunately continue to run rampant.