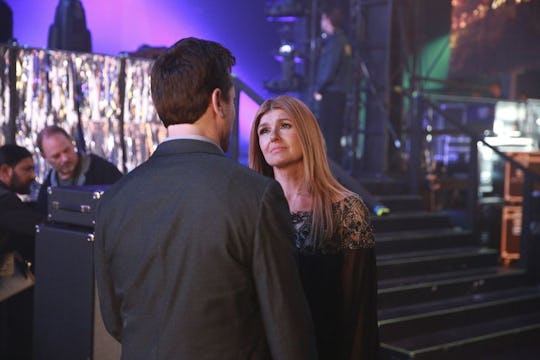 Mark Levine/ABC
Will 'Nashville' End On A Cliffhanger? The Surprise Cancellation May Leave Fans Bummed
After spending pretty much every one of its four years on air on the bubble during cancellation season, Nashville has finally been axed by ABC. Unfortunately, they shot the Season 4 finale — now the series finale — before the announcement was made. So the show's final episode may not be the neatest or most satisfying of endings. Plenty of fans are wondering, for instance, will Nashville end on a cliffhanger?
Unfortunately, the way the finale was originally written: yes, it does. A fan wrote into TVLine in April asking if Nashville prepared an alternate series finale ending, considering the show was in danger of getting cancelled. Michael Ausiello replied, "I sincerely hope they did, considering the season finale ends on a massive cliffhanger."
From the clues we've gathered so far, it looks like Rayna and Deacon make up in the episode, so their relationship appears to be safe. We also know that Rayna gives her "last performance" as she prepares to retire from the spotlight and focus all her energy on dissuading Maddie from signing with Lennox Hill. Gunnar and Scarlett are on the verge of breaking up as a band, but that might be a misleading way to reveal that they are getting back together. Will finally steps up to be the gay country icon the queer community deserves, so that mostly leaves Juliette, Avery, and possibly Layla with open-ended fates.
We know that Juliette gets caught by surprise by a reporter asking on an "anonymous tip" (ahem, Layla much?) if she was on the roof the night Jeff Fordham died. Juliette is visibly shaken by the question, and it appears as though her new post-therapy truthfulness is getting in the way of her usual discomfort-blocking-out abilities. The cliffhanger seems like it might be related to Juliette going public about her involvement in Jeff's death, Avery's subsequent horror, and/or whatever mega-dramatic stunt Layla pulls in response to it.
Or, it's possible that the show, in fact, did shoot an alternate ending and we'll be spared the unresolved cliffhanger of doom fate. For their part, Nashville's production company Lionsgate is trying to shop the series to other networks for a fifth season. CMT is a no-brainer choice, if the show wanted to switch to cable, with Epix and DirecTV (who famously picked up Friday Night Lights for its last season after NBC cancelled it) also in the mix. Hulu is another option, since it already has the rights to all of Nashville's past episodes. If this is truly the end, hopefully it's one Nashville fans can feel good about.