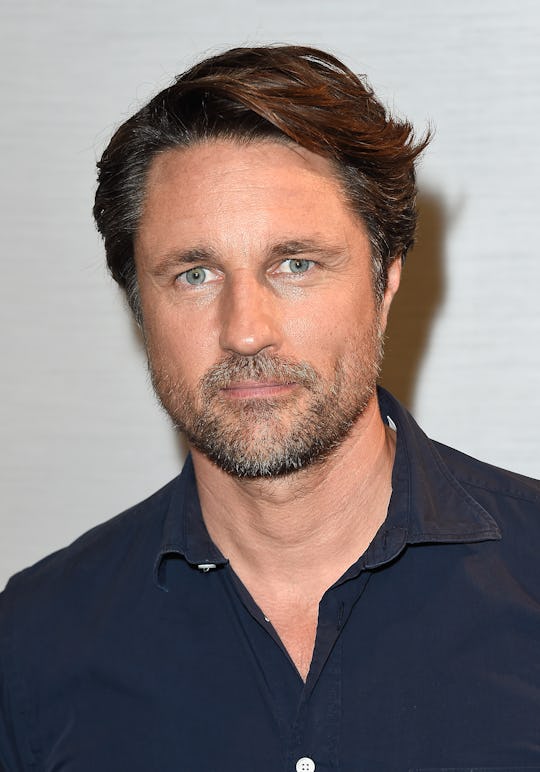 Frazer Harrison/Getty Images Entertainment/Getty Images
Don't Expect Riggs To Return To 'Grey's Anatomy' Anytime Soon
It wasn't an easy beginning for Meredith and Riggs on Grey's Anatomy, and even the middle was a little shaky for their relationship. But once they became a couple, it seemed like she had finally moved on from the loss of Derek. Then, Megan returned and Riggs' feelings for his presumed dead fiancée came back too. So now that they've apparently started a new life together, will Nathan Riggs return to Grey's Anatomy or is he gone for good?
He was given a solid farewell to begin his new life in California with Megan and Farouk, which left little to no doors open for his return to the show. It was actually one of the most satisfying goodbyes a character has ever experienced on the show, since it didn't come from a death, career-ending injury, or termination from Grey Sloan Memorial Hospital.
Just in case you're still hoping that there's a possibility for a Meredith and Riggs reunion, though, Shonda Rhimes has made it pretty clear that Martin Henderson's exit from Grey's Anatomy as Riggs was meant to be permanent, at least for now. "I loved that we were able to give Riggs a happy ending worthy of his character and talent," she told The Hollywood Reporter in a statement. "As for Martin, this is not an ending for our relationship. He has been part of the Shondaland family since the pilot of Inside the Box and he will always be family. I can't wait to find a new project to work with him on in the future."
When Henderson spoke to Deadline following Riggs' departure from Grey's Anatomy at the end of "Danger Zone," he reiterated the fact that although Riggs left the show on a high note, it was meant to give the character a fresh start away from Seattle. "I only had a short-term contract with the show. This is my final year so I was expecting Nathan's story line to be wrapped up," he revealed, adding:
Bringing in Megan and tying up loose ends provided a reason. That was always intended when they brought Megan back with a twist. The triangle played out nicely, the way they gave perspective leading up to her disappearance, the mutual infidelity; the way it was handled was interesting. It's been a couple of fun years on the show.
For fans who are still riding confidently on the Meredith/Riggs train, don't hold your breath, but there's always hope for a return somewhere down the line since Riggs wasn't killed off, nor did he leave on bad terms. "I would never close the door. In my mind it's been left open-ended enough," Henderson told Deadline. "This is the third time that Shonda and I have worked together. I think providing an exit for the character where there's a possibility for him to return is always nice. It was always a short-term thing and I was happy to spend a few years doing the show."
While it's nevertheless sad to see Meredith's new love story come to a close before he truly had a chance to begin, I'm still glad it happened. Now Meredith knows she's able to feel that way for someone else who isn't Derek and could leave the door open for possible flings or romances for her in the future.
But unless an opportunity presents itself, Riggs most likely won't return to Grey's Anatomy, but at least he was given a great exit, which is a lot more than can be said for some of the other characters who've left the show.
Watch Romper's new video series, Romper's Doula Diaries:
Check out the entire Romper's Doula Diaries series and other videos on Facebook and the Bustle app across Apple TV, Roku, and Amazon Fire TV.