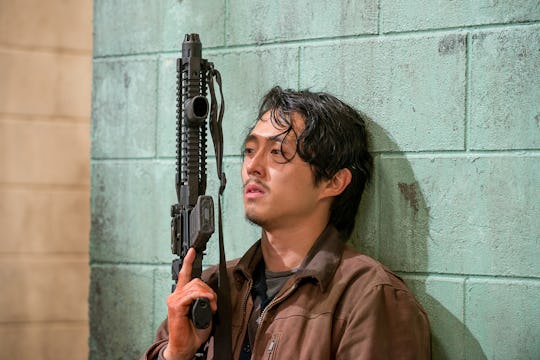 Gene Page/AMC
Will Negan Kill Glenn In 'The Walking Dead' Finale? Fans Are Nervous AF
The day The Walking Dead fans long for and loathe is almost here — the Season 6 finale. Though every finale brings a certain level of anticipation and anxiety to viewers, the buzz surrounding the April 3 episode is bigger than those of years past. And all because of a baseball bat-wielding sociopath. The Season 6 finale will introduce Negan, one of the biggest baddies of the franchise, and take away at least one of the most beloved characters. And while most people are worrying about Daryl's finale fate, I'm wondering will Negan kill Glenn on The Walking Dead finale.
The main reason people may be pointing the death finger in this direction is because Negan does kill Glenn in the comics. In Issue 100, after confornting Rick and Co. by he van, Negan makes it clear that he wants revenge for The Saviors that dies at the hands of Rick and his group. And that means killing one of their own. After a game of eenie meenie mine mo, Negan selects Glenn as his victim and proceeds to bash the former delivery boy's head in with the barbed wire-covered baseball bat. It's horrifying, heart-wrenching, and proves that Negan is not to be messed with.
Now, of course, the AMC series doesn't always align with the comic books. Hell, Daryl doesn't even exist in the comic's world. But based on the previews for the finale, a confrontation does occur by the winnebago and a barbed wire-covered baseball bat does make an appearance.
Then there are the many Negan-themed Easter eggs that connect the two men. There were two instances in Season 5 in which Glenn had contact with a bat – one in a Season 5 finale promo that featured Glenn holding a bat. According to Wet Paint, many believeGlenn's use of bats foreshadows his death by Negan.
Then again, this could just be red herring to throw of the comic book readers and scare viewers. In an interview with Entertainment Weekly, The Walking Dead's showrunner Scott M. Gimple said that the series would take, "some hard left turns from the comic story" when it came to The Saviors and Negan. In a separate interview, Gimple noted that the introduction of Negan would keep fans of the show and comics on their toes.
Sometimes we have things from the book that people who read the comics maybe see coming a mile away, and we try to adjust that so that we can give them the same feeling they had when reading the book, which might have been shock or surprise or fear, any of those things. It might be wildly different, but it's all to get the same sort of feelings that you got when you read them. So will it be different? Absolutely. Will it be the same thing? Absolutely.
But still, people are fearing for Glenn's life as April 3 approaches.
Still, there are those who have hope that everyone's favorite delivery boy will make it out of the finale alive
One thing we do know is that this finale will make fans feel all the feels. Hell even the actors who know what's going on are in shock from the 90-minute episode.
"It's the most hardcore episode we've ever shot," Norman Reedus, who plays Daryl Dixon, told Entertainment Weekly. "I couldn't speak after I watched it. And, of course, I knew what was happening, and what was going to happen, and who was involved, but I got to tell you, I couldn't speak for like an hour."
And if the man behind Daryl Dixon was moved to his core, lord knows how fans will react.