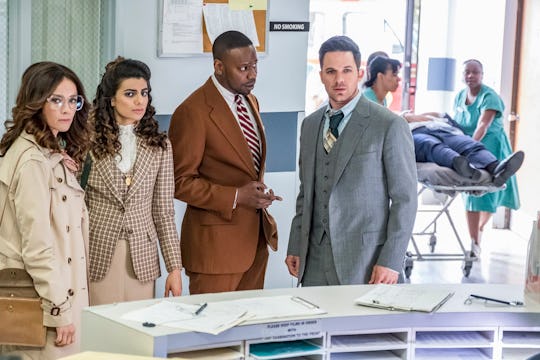 Ron Batzdorff/NBC
'Timeless' Fans Are Hoping That Netflix Will Save The Day
Timeless fans have seen their fair share of battles. Last year, when NBC cancelled the series after its first season, thousands of fans took to social media and convinced the network to renew it for a second season. But now, after cancelling the series yet again, it looks like the network has no plans for another season. However fans have been tweeting at one of the biggest streaming services, Netflix, to take up the show. But will Netflix save Timeless? As a die-hard fan of the show myself, I really do hope so.
As of now, there's no word on whether Netflix will pick up Timeless or not, but there is hope. After Fox cancelled Lucifer, fans pushed back hard with the #SaveLucifer campaign on Twitter, and Netflix was the hero that swooped in to save the day. Timeless fans are hoping that Netflix does the same for their beloved time travel show. People have been vocal about their hopes on Twitter, through phone calls, and through emails as well. Even though the company has yet to indicate any interest in the show, there's always a chance that they come in for a miraculous last-minute save.
But Netflix isn't the only streamer that fans are petitioning to. The #SaveTimeless campaign is focusing on anyone that will listen, including Amazon Studios and Hulu. And this week, fans have started tweeting at newer streamers like Apple TV, Crackle, and YouTube in hopes that they would pick up the amazing show — with an already established cult audience. Picking up a popular show like Timeless could be a great move for any of these outlets, because it could result in an uptick in subscribers as well as social media praise.
Season 2 of Timeless ended on a major cliffhanger, so fans are understandably anxious for some closure. Warning! Spoilers ahead!
In the season finale, the team of Lucy, Wyatt, Flynn, and Rufus head back to 1800's Chinatown to find and save Jiya. As per Jiya's premonition, Rufus is shot and killed there by Emma, and the team returns to the present, broken and disheartened. But when a newer, cooler looking lifeboat appears, they find the future versions of themselves descend, and offer to save Rufus and bring him back. While fans waited for NBC's official word on the renewal or cancellation of Timeless (which took over a month), they took to Twitter to save their favorite character with the #SaveRufus campaign.
I really hope Netflix is listening, and with the #SaveTimeless movement getting steam from famous celebrities, they may have to. It was actually global pop icon, Kelly Clarkson, who spearheaded the campaign to renew Timeless when she tweeted to her 12 million plus followers in May:
Other notable celebrities like Mark Hamill, Leslie Jones, and William Shatner have also shared their grief over the cancelation of the show, with Shatner tweeting tips on how to get #Timeless to trend, and Jones tweeting that she would protest nude in front of the NBC building if they didn't renew the show:
As of now, however, the only glimmer of hope seems to be the possibility of a two hour movie, which Timeless creators are currently negotiating with NBC. In a tweet, the series' co-creator Eric Kripke mentioned that this movie may be the only way for the series and it's fans to get a proper goodbye.
If you haven't seen Timeless yet, you can still stream the first two seasons on Hulu right now. I'm sure you'll find it worth saving, so you may want to take to Twitter and join the #SaveTimeless movement.