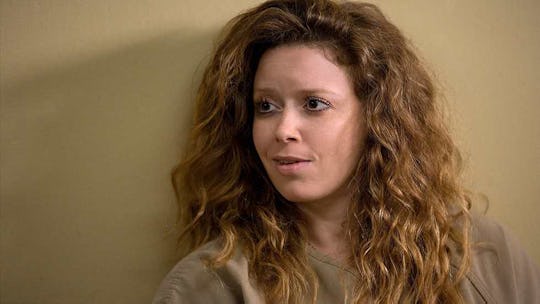 Netflix
Will Nicky Return To Litchfield On 'Orange Is The New Black'? She Can't Be Gone For Good
The last time we saw Nicky Nichols, she was being carted off to Maximum Security, just three episodes into Season 3 of Orange Is the New Black. And with Season 4 starting, you might be wondering if Nicky will return to Orange Is the New Black? I'd say that spending most of Season 3 away in Max was enough of a punishment for an easy fan-favorite. While Nicky has never been one to play by the rules, in any capacity, she's also never been inherently bad. So when she was forced to take the fall for Luschek, whose desk contained the heroin the two had been selling, it was heartbreaking. Of course, she could do with a separation from the drug that had gotten her into prison in the first place, but to see her accused by Luschek and transferred to Maximum Security by Caputo just wasn't cool.
The good news is that despite her absence for most of Season 3, Nicky will likely be back on Orange Is the New Black for Season 4. She kind of has to, right? Creator Jenji Kohan isn't about throwing out characters for the fun of it, especially the ones fans connect with the most. And if Pornstache can come back for a little while in Season 2, then Nicky can too, right? We should also remember that in Season 4, Litchfield is about to be a publicly-funded prison, accepting tons of new inmates, as shown in the Season 4 trailer. Could this mean welcoming in some inmates of surrounding prisons like, say, Maximum Security down the road?
Regardless of how Nicky comes back, you know she belongs back at Litchfield with all of the gal pal inmates who are going to need her now more than ever. If the Season 4 trailer for OITNB is any indication of how the new season is going to play out, then we can expect enough drama to make us love and hate these characters all over again.
Seeing Nicky after she spends time in Max could result in one of two things. Either she'll come out as a much softer inmate, finding it easier to play by the rules and do her time, or she'll come out even more hardened. Then again, since you never really know with Nicky on Orange Is the New Black, she could come out of Max with a new attitude that is a combo of both and also ready to somehow get revenge on inmates Leanne and Angie, the ones who tattled on Luschek for having the heroin in his desk in the first place. Of course, he then fingered Nicky, but he might be a harder target to get back at.
There's no telling how Nicky will return to Orange Is the New Black and Litchfield Prison, but Season 4 will no doubt see a comeback of the wild-haired, fast-talking, but sometimes soft inmate.