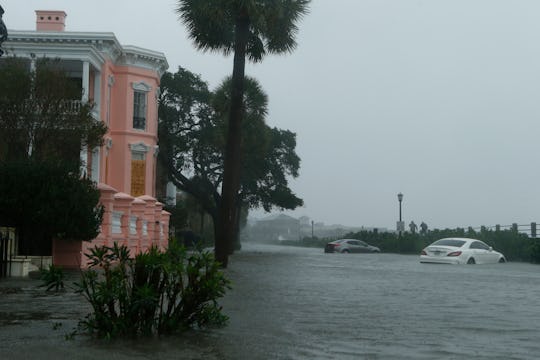 Brian Blanco/Getty Images News/Getty Images
Will North Carolina Extend Voter Registration After Hurricane Matthew? Voters Have Time
Hurricane Matthew has ripped through the eastern seaboard, leaving devastation in its path. At least 24 people have died, there are hundreds of thousands of power outages in North Carolina and Virginia alone, and rivers continue to rise. As residents try to wade through the wreckage, there is a deadline looming: voter registration. While registering to vote must not feel like an immediate necessity to those people affected by the storm, what about when the storm abates? Will North Carolina extend voter registration after Hurricane Matthew and allow citizens to get their affairs in order? A precedent has been set by Florida, after all.
Judge Mark E. Walker, a federal judge in northern Florida, granted a preliminary injunction for the Florida Democratic Party that would allow for the deadline for voter registration to be extended for six days (until Oct. 20) due to the massive storm. Attorney Marc Ellias, who represented both the Democratic Party and the Clinton campaign, argued that voters in Florida should not be expected to face "daunting, and indeed, life threatening obstacle" in order to register to vote, according to CNN. Ellias also said: "a massive and dangerous weather event that has threatened Florida with substantial damage and loss of life."
Gov. Rick Scott, a Republican, had initially told reporters that he would not be making any changes to voter registration because "people have had time to register."
While Florida has certainly suffered from Hurricane Matthew, North Carolina continues to feel the brunt of the aftermath. North Carolina Gov. Pat McCrory said that there have been at least 19 fatalities related to Hurricane Matthew (many from driving through flooded roads) and the trouble has not subsided. According to The New York Times, McCrory said on Tuesday:
Certain parts of the state were going through recovery at this point in time. Certain parts of the state were still going through ongoing floods. And now we have other parts of the state that are about to deal with some very serious circumstances, especially along two of our major rivers.
McCrory went on to say that around 2,000 people had to be rescued from the storm, and 282,000 homes and businesses were without electricity. Fortunately, voters in North Carolina who missed the opportunity to register due to Hurricane Matthew will be allowed to register during early voting beginning Oct. 20 and ending Nov. 5
The North Carolina State Board of Elections is looking at the effect the massive tropical storm has had on the voting process and trying to assess how to deal with displaced residents as well as polling places that could potentially be without power or flooded.