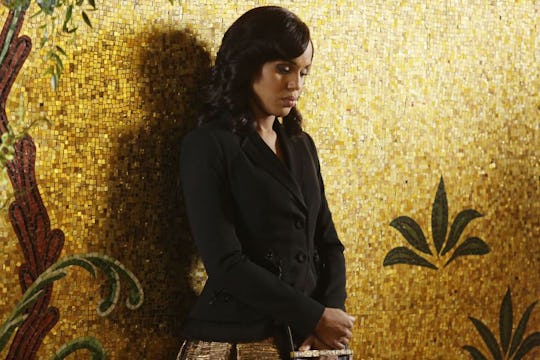 ABC/Nicole Wilder
Will Olivia Turn Herself In For Andrew's Death On 'Scandal'? She Feels Extremely Guilty
We can't say that anyone on Scandal is a saint. Throughout the show's run, characters have committed crimes ranging from rigging an election to murder. Olivia, despite running the Gladiators, is no exception. She was part of the White House's illegal schemes – getting Fitz elected, for one. Sometimes, she even orchestrated these acts. Not to mention that Olivia participated in a years-long affair with the President while he was married to another woman. In the last episode, she did what some believe crossed the line: she killed Andrew Nichols. Will Olivia turn herself in for murdering Andrew?
To understand why Olivia killed Andrew, we need to know the backstory. Andrew was the Vice President under Fitz. In Season 4, he organized Olivia's kidnapping in order to make Fitz declare a war with West Angola. This kidnapping hurt Olivia, and left her with PTSD. Huck, instead of killing Andrew, forced him to have a stroke. In the "big-kill" episode, he woke up and was just as terrible as before. Andrew claimed to reveal what he knew to the press. He would not be swayed with a bribe. In a fit of rage, Olivia killed him.
This is not the first time Olivia's been involved with murder. For one, she employs and trusts in Huck, who has killed dozens of people. Furthermore, she played a role in some of the murders — and beatings — her Gladiators committed. However, this murder in particular is extremely controversial amongst fans. Some believe Andrew's berating triggered Olivia into murder, others argue that it was calculated and that she went to see him with the sole purpose of killing him.
Andrew's death also shook the Scandal universe, particularly with Olivia. She feels guilty for what she has done, despite her PTSD and the justification for it. There's a part of her that believes she is her father — which is something she always wanted to avoid. Will her guilt make her turn herself in?
Knowing Olivia, that's unlikely. She might want to repent for killing Andrew, but it would not be in the eyes of the law. Olivia usually grapples with her demons in private, and this will likely be the same — maybe not without consulting her inner circle and a glass of red wine.
Maybe, because Andrew's murder is unlike any other on Scandal, however, Olivia's course of action will be different. Whether it involves police action, we just have to keep watching.