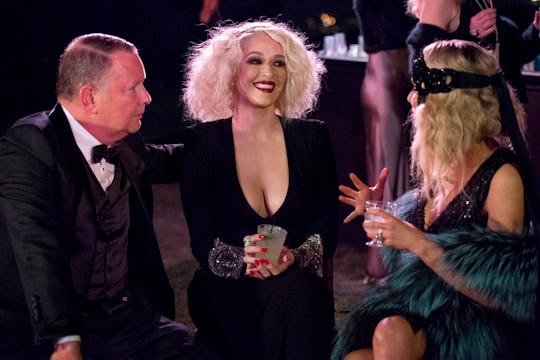 Nicole Weingart/Bravo
Dorit's Husband May Show Up At The 'RHOBH' Reunion
Not many of the housewives on The Real Housewives shows are still actually married, but apparently Paul Kemsley never got the memo that the show is about the wives. And even though he was a big part of the Erika/Dorit drama from Season 7, there's still the question of whether or not Paul Kemsley will be at the RHOBH reunion. There are plenty of the husbands who assert themselves into the folds of the storylines, but for the most part, it's usually about the drama and parties that the women get into together, rather than with their respective spouses.
Since Paul (or PK, if you will) was such a big part of the pantygate drama, though, you kind of expect him to also be a big part of the RHOBH Season 7 reunion. In a preview for the reunion, PK is sitting down with Erika and, once again, hashing out all of the drama that has somehow been going on since the start of the season.
Pantygate all began because Erika, who wasn't wearing any underwear at a party earlier this season, allegedly caught PK stealing a glance at the evidence of that. When she brought it up, instead of getting an apology and being done with it, what ensued was a season-long back and forth of whether or not PK had actually looked on purpose or Erika was actually trying to seduce him. Oh yeah, and somewhere in there, Dorit gave Erika a pair of panties as a gift, which only made things worse within the big feud.
In a sneak peak for Part 1 of the RHOBH reunion, PK tells Erika:
I never stood staring at you. It's just absolute nonsense. I caught a glance and then at that point, I never looked again. To a certain extent, Erika, I was making light heart of it. I realize now that that went on far too long and I totally agree with you. I can't believe we're still here talking about it.
To that, Erika admonishes that Dorit is the one who also accused her of continuing to drag it on. To be fair, PK was as much a part of pantygate as Dorit and Erika, so PK being at the RHOBH reunion isn't very surprising, but it's also another way to bring up the whole subject yet again. At this point, they're obviously individually over it, so can the topic finally be put to bed? Hopefully, the three-part RHOBH reunion will help make that happen.