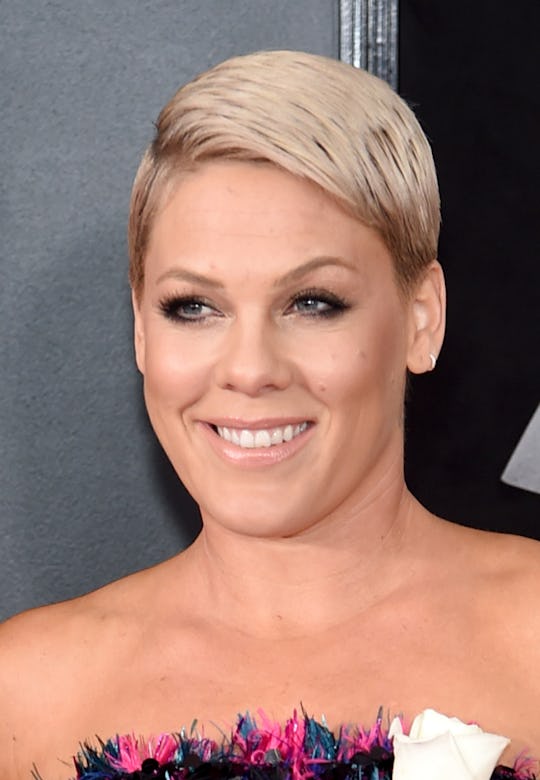 Jamie McCarthy/Getty Images Entertainment/Getty Images
Will Pink Still Perform At The Super Bowl? The Singer Is Battling The Flu
Super Bowl LII is looming large ahead, and fans are getting excited. To watch the Philadelphia Eagles go up against the New England Patriots, of course, but also to see the amazing musical performances scheduled to go down at the U.S. Bank Stadium in Minneapolis. Unfortunately, there's just one slight hitch. Pink is battling the flu in the hours before she's set to perform the Star-Spangled Banner at the big game, and fans are worried about whether or not she's going to be able to manage.
The Grammy award-winning singer and mom of two took to Instagram on Saturday to let fans know that she was struggling with the flu for a mom-related reason:
Trying to practice the flu away. I've been waiting to sing this song since 1991 when I saw my idol, Whitney Houston, own this song. And now, my chance has finally come. And it just so happens that this chance comes when I have two small Petri dish kids who literally cough INTO MY MOUTH and rub their snot on my cheek.
Isn't this always the way with kids? You finally get to sing the national anthem in front of millions of people and they give you their flu.
Not that the "So What" singer is actually blaming her 6-year-old daughter Willow or 1-year-old son Jameson. It's just... the timing is clearly not ideal.
Pink explained in her caption on Instagram:
I've arrived at another one of my dreams which is slowly becoming a sort of nightmare. I will tell you, this is one of the biggest honors of my life, singing this song in front of my family, my military family, my dad and brother and step mama and family and the world. And the EAGLES!?!?! I promise I will do my best, as I always do. As far as the gremlins that got me into this mess, you can cough at me for the rest of your lives. If it's a contest, babies, you win.
If I had to place bets on who will win this battle, the flu or Pink? If Friay night's pre-Super Bowl performance was any indication, my money is on Pink. The singer performed her way through the flu and by all accounts did an amazing job, belting out "Just Like Fire" while relying on her back-up singers to pitch in with some of her other songs. She even called out to fans to give her a hand by singing some of the lyrics along with her, saying:
I'm not going to sound like (crap) all night because you guys are going to help me. We're going to rock the (expletive) out and have a good time.
It was announced back at the beginning of January that Pink would be performing "The Star-Spangled Banner" for Super Bowl LII, with Justin Timberlake scheduled to lead the half time show for the first time in 14 years. It's feeling a little like a fabulous early 2000's throwback party this year, as evidenced by this old picture Pink shared on Twitter of her and the "Cry Me A River" singer back in the day.
Pink is a legend when it comes to her live performances; she's known for her athletic, high energy concerts where she never seems to hold anything back. Thankfully, she'll only be performing one song (that we know of, unless she plans on showing up as a guest for Timberlake's half time show), so hopefully she'll be feeling well enough to manage.
But here's the thing about Pink; even if she's still under the weather on Sunday, you know she's going to deliver. Because, as she wrote in her Instagram post, she will always do her best. And Pink's best just happens to be better than the rest.