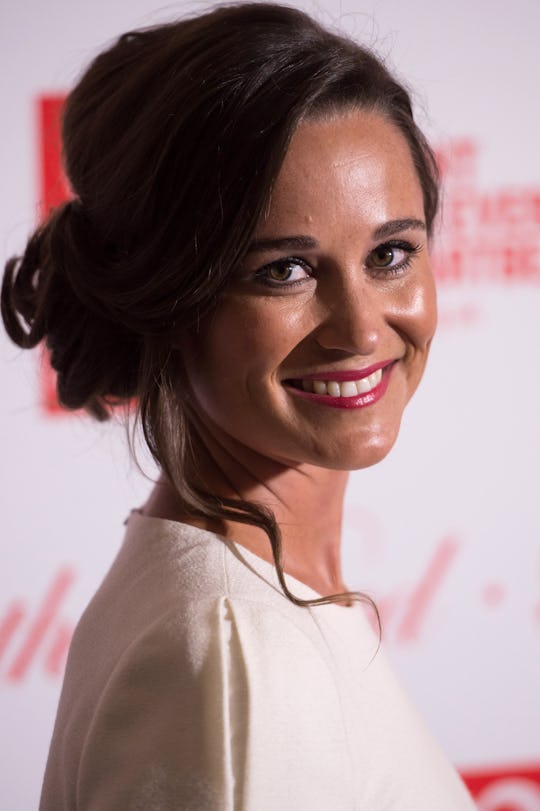 Ian Gavan/Getty Images Entertainment/Getty Images
There's A Good Change Pippa Middleton Might Miss Princess Eugenie's Royal Wedding — Here's Why
With Princess Eugenie's royal wedding right around the corner, people have been anxiously awaiting a guest list. Although it's unlikely that any official list will leak, people can definitely make some educated guesses about who will be in attendance. For example, many are likely curious about whether Pippa Middleton will be at Princess Eugenie's wedding? But, if you're taking bets, here's what might stop her from making an appearance.
Princess Eugenie is the youngest daughter of Prince Andrew, Queen Elizabeth II's second youngest child. She will be marrying her fiancé, Jack Brooksbank, at St. George's Chapel, Windsor Castle, on Oct. 12, as reported by the BBC. Her wedding will be exclusively streamed live in the United States by TLC. And this wedding is a big deal. As noted by TLC's announcement, Princess Eugenie is the first princess of royal blood from the younger generation to marry.
Pippa Middleton and Princess Eugenie may not be related by blood, but they are still family through marriage. So it's fair to wonder if Middleton will be making an appearance at Princess Eugenie's wedding. Under normal circumstances, the answer would most likely be a yes. But, there's a pretty good reason as to why Pippa Middleton may not make it to the wedding on Friday.
As most fans know, Middleton is currently expecting her first child with husband, James Matthew. And her reported due date happens to line up extremely close to Princess Eugenie's wedding.
Although Middleton hasn't announced an exact due date, it's bound to be sometime soon. Middleton first announced her pregnancy in her fitness column Exercising During Pregnancy back in June. In the column, Middleton confirmed she had passed the 12-week mark.
Since her pregnancy was announced in early June, after her first trimester, that means Middleton is likely due sometime during October. A good chunk of the month has already passed by, so that means it's very likely she could go into labor very, very soon.
Some fans even believe that Kate Middleton may miss out on Princess Eugenie's wedding, as noted by Marie Claire, if it happens to fall on the day Middleton is giving birth. Considering how close the two sisters are, nobody can hold that against her.
The chance of these two events clashing is admittedly slim, as noted by Marie Claire. But, babies do have a way of surprising people. Sometimes, it's almost like they try to pick some really interesting times to be born.
If it so happens that the two events do occur on the same day, royal fans will at least be treated to both a wedding and a birth!
Because this is Middleton's first child, people are really excited to receive updates about her pregnancy. The couple have still managed to keep a lot under wraps. However, some royal watchers have put out ideas about where Middleton will give birth. It's very possible that Middleton will end up at Lindo Wing at St. Mary's Hospital, according to Daily Mail. This comes after the outlet reported Middleton was spotted visiting the wing with her husband.
If the name sounds familiar, that's because it's the exact same place older-sister Kate Middleton gave birth to all three of her children, as noted by Daily Mail. Considering they've hosted royal births before, the Lindo Wing is sure to have excellent facilities. According to Daily Mail, "patients are each given a private room with their own en suite bathroom, as well as satellite TV offering 'major international channels'."
Even if Middleton isn't giving birth, it's possible she may skip out on Princess Eugenie's wedding since it's cutting things so close. And if she does, certainly everyone would understand.