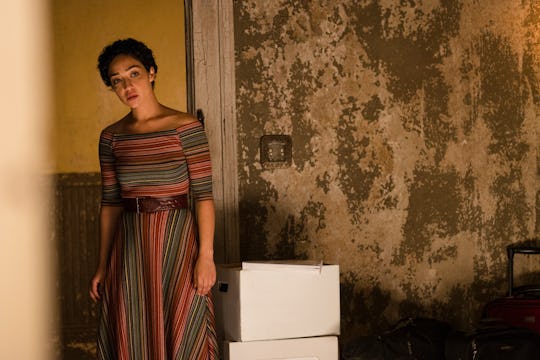 Michele K. Short/AMC/Sony Pictures
It's Time To Say A Prayer For More 'Preacher'
After the massive success of The Walking Dead, it's not all that surprising that AMC decided to green light another show based on a comic book series. However, as Preacher begins to close out it's second season, it has yet to receive the same level of fan fare that TWD has. Even so, it still has a bit of a fanbase and now that Season 2 is almost over they want to know if Preacher will return for Season 3. Though it hasn't been renewed yet, fans have good reason to hold out hope for at least one more season.
Though AMC hasn't announced the fate of Preacher, the network has reportedly filed papers to continue filming the series in New Orleans, Louisiana, where the second season took place. According to the filing, made with the Louisiana film office, pre-production for the third season would begin this November, and the principal photography would begin in January 2018. This would set up the third season for a summer premiere, just like the first two seasons.
Additionally, the new season reportedly has a slightly bigger estimated budget than Season 2, coming in at $70 million. This could mean that AMC isn't just continuing on the series, they're also investing in it, hoping to make Season 3 even better than Season 2, and possibly gain an even larger fanbase.
The dark fantasy drama has already come a long way since it's first season, which only had nine episodes. Preacher began with the show's protagonist (or anti-hero, depending on how you look at it), Jesse Custer taking over his father's church. However, things went sideways when a supernatural event caused Jesse to go to a vampire for help.
Since then the show, has seen a lot of supernatural events that go above and beyond what one would expect in a show titled Preacher. Now leading into the Season 2 finale, Jesse is working on a new plan to make a viral video of him performing a miracle, possibly to attract the attention of the one person he's been looking for all season: God.
Knowing Jesse, this will not be the kind of miracle the children are expecting or anywhere near prepared for. Still, that's what makes the show so fun and interesting. Besides that, it's unclear what else is in store for Jesse & Co. but one should expect this finale to be filled with a few twists.
Check out Romper's new video series, Romper's Doula Diaries: