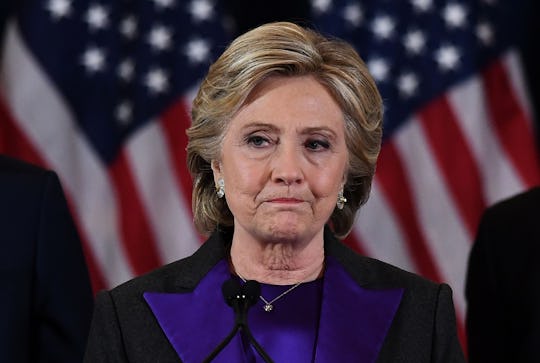 JEWEL SAMAD/AFP/Getty Images
Will President Obama Pardon Hillary Clinton Before Leaving Office? It Could Protect Her
Donald Trump made a lot of incendiary promises on the campaign trail, but on some — such as the vow to repeal Obamacare — he's already softening. And as the new president-elect prepares to transition into the Oval Office, a major question remains about whether he'll uphold his pledge to appoint a special prosecutor to further investigate his opponent, Hillary Clinton, over her use of a private email server while she was Secretary of State. Even though the FBI has twice established its recommendation of no charges in the matter that cast a permanent pall over Clinton's own campaign, Trump certainly could still pursue his plot to imprison her. There's only one person who can definitively ensure that Trump won't use his impending position of power to feed his own vindictive nature, but we don't yet know whether President Obama will pardon Hillary Clinton before leaving office.
The White House, though, is not ruling it out. The day after the election, Obama's press secretary, Josh Earnest, told reporters that the president's team wouldn't hold advance discussions about his potential plans (or non-plans) to shield Clinton from being charged for any federal offense she may have committed.
But he did indicate that the president expects his newly named successor to use his office constructively, and not for personal gain or to settle personal scores.
"We have a long tradition in this country of people in power not using the criminal justice system to enact political revenge," he said, according to Politico. "In fact we go a long way to insulate the criminal justice system from partisan politics."
One way to make sure that doesn't happen, of course, is for the president to preemptively pardon Clinton, even though no charges have been brought against her. A pardon, of course, would telegraph to many, especially Clinton's critics, that Obama believed that she did commit some wrongdoing, as well as potentially tarnish his own reputation in the eyes of some who will undoubtedly believe he engaged in political favoritism. And it could even benefit Trump himself, as Politico's Josh Gerstein pointed out, because it would absolve him of the responsibility to follow through on his promise, a move that would surely sow even deeper rifts between Democrats and Republicans in a government Trump is now charged with attempting to unify.
That doesn't mean Trump is secretly rooting for Obama to make this executive action before his own Inauguration Day on Jan. 20. In fact, he implored the president at the end of September to refrain from doing just that. "Here's the demand I'm making today to President Obama," Trump said at a rally in Michigan, according to CNN. "Will you pledge not to issue a pardon to Hillary Clinton and her co-conspirators for their many crimes against our country and against society itself? Will you make that pledge?"
By the time he delivered his victory speech in the early hours of Wednesday morning, Trump was much more gracious in talking about his political rival. "Hillary has worked very long and very hard over a long period of time and we owe her a major debt of gratitude to her service for our country," he said after telling the nation that Clinton had called to concede the race and to congratulate him.
For his part, Obama has not indicated what he will decide to do or not do. Either way, the reverberations of the caustic presidential campaign Trump ran won't fade away from the public consciousness when he takes office, and neither will the memory of the threats he made.