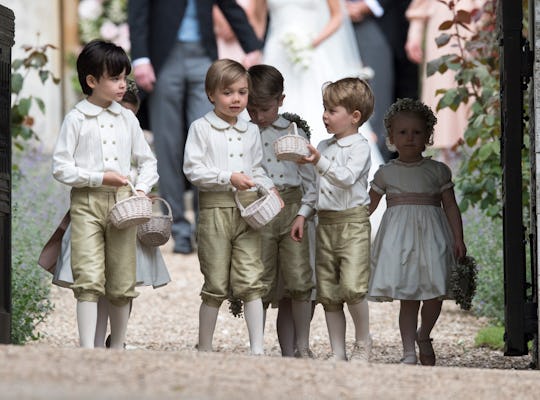 WPA Pool/Getty Images Entertainment/Getty Images
Prince George May Have A Super Important Role In Prince Harry's Upcoming Wedding
Having children in your wedding party can pretty much only go one of two ways; either it's the cutest thing you've ever seen in your life or a total disaster. Although truth be told, even when it's a disaster it's still adorable because children dressed up in fancy clothing is the purest thing in this world. And just who do you think of when you think of cute kids in fancy clothes? Prince George and Princess Charlotte, obviously. So now that the royal wedding is just around the corner, everyone wants to know if Prince George will be a page boy. Honestly... just imagine it. Not only is the future King of England adorable, but he has just the right amount of sweet sass to pull off any manner of fancy dress clothes.
Prince Harry is marrying American actress/philanthropist Meghan Markle on May 19 at St. George's Chapel in Windsor Castle. It promises to be the biggest wedding since that of the Duke and Duchess of Cambridge in April 2011, also known as pre-tiny royals. In the interim years, the Duke and Duchess have welcomed three adorable children; 4-year-old Prince George, 3-year-old Princess Charlotte, and baby Prince Louis. Now that their uncle is getting married, will he and his fiancee Markle include the royal kids in their wedding party?
Most signs point to yes.
First of all, Kensington Palace alluded to the possibility of Prince George being a page boy in the wedding. When questioned about the tiny royal's involvement in the ceremony, a representative for the palace told The Sunday Times:
The wedding will be a family event. You can expect the family to be involved.
It makes perfect sense on a few levels. First off, his father Prince William is Prince Harry's best man, so including his son as a little page boy would be in keeping with the family element. Also, Prince George did a mostly amazing job as page boy at the wedding of his aunt Pippa Middleton last year, only once having to get told off by his mom. So he knows the drill.
And what exactly might those duties entail? Traditionally speaking, page boys are meant to carry the train of the bride... but this could be a pretty heavy task to pass on to a 4-year-old. I mean, what happens if Markle decided to go with a 25-foot-train a la Princess Diana? He would collapse under the weight, surely. But there are plenty of other page boy job opportunities Prince George could sign up for, if he felt up to the task. Sprinkling flowers at the bride and groom's feet as they leave the ceremony or carrying the wedding bands are admirable options. But to be honest, the most important thing a page boy needs to do is to look super adorable walking down the aisle beside the flower girl. Preferably hand-in-hand. And when it comes to that role, Prince George has that whole page boy thing on a lock.
It seems more than likely that Prince George will be a little page boy, and indeed that his sister Princess Charlotte will be a little flower girl or bridesmaid (in England, bridesmaids tend to be quite young). As for their baby brother Prince Louis, royal experts do not expect him to be in attendance. Because he's a little tiny baby, and because his first official appearance could well detract attention from the bride and groom. I mean, I'm already a little worried that Prince George and Princess Charlotte will hog the spotlight, but I'm good with that. Their mom Kate Middleton will be in attendance at the wedding as well, but she doesn't have to perform any roles. She did just give birth after all, so Prince Harry and Meghan Markle reportedly want her to relax and enjoy the day.
Besides, if one of her kids throws a royal tantrum, she might get called in to duty at the last minute.
Whatever happens, I'm just super excited to see this wedding. Even if, or especially if, Prince George throws a tantrum.