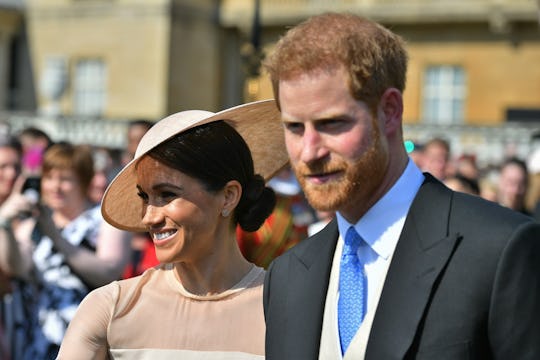 WPA Pool/Getty Images Entertainment/Getty Images
Could Prince Harry & Meghan Markle Visit The U.S. After Their Honeymoon? Here's What We Know
While it still may seem like it was only yesterday, the royal wedding was actually a good two weeks ago. Although the new Duke and Duchess of Sussex haven't been spotted recently, rumor has it that the two are on their honeymoon now. Of course, nothing has been confirmed, but if that is true, then those on this side of the pond may be wondering if Prince Harry and Meghan Markle will visit America after their honeymoon, whenever that may be.
Again, there's been no confirmation on whether they are indeed on their honeymoon at the moment. But it wouldn't be too far off of a guess for the newlyweds to visit Markle's home country. After all, just because she's now a duchess over in England, that doesn't mean that Markle's given up her American roots. And if some reports are to be believed, then it sure seems like Markle and Prince Harry might be planning a trip to the United States sooner rather than later.
As Business Insider reported, the upcoming charity event "Walk of America," which Prince Harry already launched in London, will take place in the United States, and it's understood that the newlyweds could be there. According to Business Insider, Kensington Palace confirmed that "this summer a team of six veterans from the United States and the U.K. will walk 1,000 miles from the West to the East Coast of the U.S. in 14 weeks." Even though there's been no concrete confirmation from Kensington Palace about whether Prince Harry and Markle would be there, it wouldn't be totally shocking if they did make an appearance, given Prince Harry's connection to the charity.
Additionally, as Vanity Fair reported, the trek — entitled Walking With The Wounded — will last from June 2 to Sept. 6. So really, the newlyweds would have plenty of time to stop by and show their support if they decided to make a trip across the pond. And that's not all; if Prince Harry and Markle wanted to follow Prince William and Kate Middleton's lead, a trip to California could certainly be in the works, since they made a similar trip "just weeks after their 2011 wedding," as Vanity Fair explained.
So perhaps Prince Harry and Markle will make it a priority to come back to Markle's hometown sooner rather than later. But again, nothing has been confirmed by the palace and nothing has been confirmed about the newlyweds' honeymoon plans yet, so let's try to not get ahead of ourselves. But when you think about it, it makes sense that they haven't said much, if anything, about where or when they'll celebrate their marriage. In fact, ever since the couple announced their engagement back in November, people have been speculating about where the couple would decide to go on their honeymoon.
At first, the odds were that they'd be heading somewhere in Africa since they had one of their first dates (ah, to be rich or royal, or both) on the continent. Furthermore, Travel + Leisure even reported that the couple would honeymoon in Namibia following their May nuptials. It didn't really seem like such a far-fetched idea, considering Prince Harry's own unique relationship with Africa. But, now it seems like they'll be going somewhere that the public may never know about. As royal reporter, Omid Scobie, told ELLE about the couple's plans, all the press surrounding their honeymoon had actually impacted their destination. According to ELLE, Scobie explained that their plans have "changed a few times since they started planning" due to safety concerns and whenever the location is revealed by the media, they have to switch it up. "They'll be advised by their protection team to change plans," Scobie told ELLE.
No matter where they go, hopefully Prince Harry and Markle will be able to enjoy themselves and some privacy. And whether they're planning a trip to the United States afterwards, well it seems like the world will have to keep on waiting to find out.