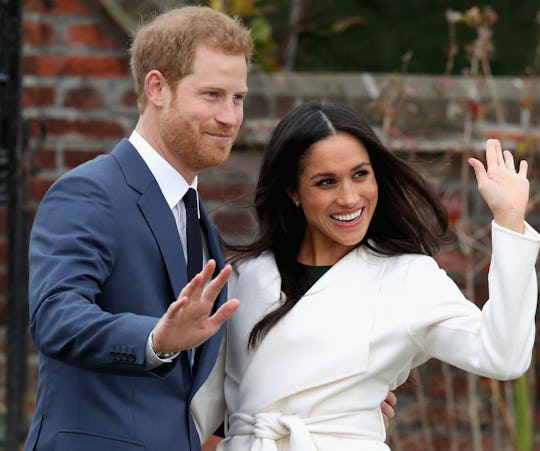 Chris Jackson/Getty Images Entertainment/Getty Images
Some Members Of The Royal Family Don't Wear Wedding Rings, But Will Prince Harry?
Ever since Prince Harry and American actress Meghan Markle announced their engagement on Monday, the internet has found itself in the grips of royal wedding fever. Much like the fever that overcame everyone when Harry's older brother, Prince William, announced he would be marrying his longtime girlfriend, Kate Middleton, more than six years ago. There are loads of questions about the lovely couple, naturally, including a rather peculiar one; some savvy royal watchers are wondering if Prince Harry will wear a ring for a very interesting reason.
It seems Prince William, also known as the Duke of Cambridge and the father of 4-year-old Prince George and 2-year-old Princess Charlotte, does not wear a wedding ring. He never has, and he never planned to. But don't take that to mean he doesn't adore his wife (for proof, see any of the thousands of pictures of the couple online smiling at each other). According to an official statement from Kensington Palace prior to his wedding in April 2011, it's really just a matter of Prince William asserting his own sense of style. As TIME reported, palace officials insisted:
It is simply down to personal preference. It was something the couple discussed but Prince William isn't one for jewelry. He doesn't even wear a signet ring — and decided he didn't want to.
For her part, Middleton wears a simple band made of Welsh gold, as is the long-standing tradition in the royal family. She also wears the engagement ring given to her by Prince William; his mother Princess Diana's famous sapphire ring.
While Prince Harry himself has not said whether or not he plans to wear a wedding ring, it seems his older brother Prince William is actually the exception to the rule in the royal family in that department. Prince Harry's father, Prince Charles, has worn two wedding rings; one from when he was married to Prince Harry's mother, Diana, which he never took off until the day after he announced his engagement to his second wife, Camilla Parker Bowles, according to The Daily Mirror.
He now wears a signet ring on his pinkie finger, given to him by Parker Bowles. The only other member of the royal family to eschew wearing a wedding ring is Prince Harry's grandfather, Prince Phillip, who is reportedly also not a fan of jewelry, according to The Daily Mirror.
Royal watchers might have to wait with baited breath to find out if Prince Harry will wear a wedding ring... but at least there is Meghan Markle's stunning engagement ring to fawn over in the meantime.
As the couple sat down to be interviewed together for the first time ever on Monday, Prince Harry explained the background of his fiancee's ring, which was designed by Cleave and Company. As the two sat with their hands entwined, smiling at each other and looking so in love it's probably going to make you mad at your own significant other, Prince Harry explained, according to NBC News:
The ring is obviously yellow gold, because that's her favorite. And the main stone itself, a source from Botswana. And the little diamonds either side are from my mother's jewelry collection. To make sure she's with us on this crazy journey together.
Markle also noted that the Prince designed the ring himself.
The two have been dating since July 2016, when they were introduced by a mutual friend in London, and are planning to marry at Windsor Castle in London on May 26. With any luck, the wedding will be a grand affair. I'm hoping for horses, little girls with flowers in their hair, and an invitation if I'm being perfectly honest.
And of course, I'll be watching to see whether or not Prince Harry wears a wedding ring.
Check out Romper's new video series, Romper's Doula Diaries:
Watch full episodes of Romper's Doula Diaries on Facebook Watch.