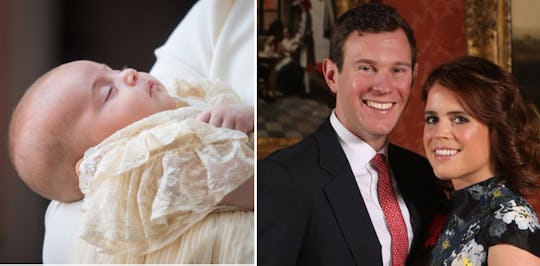 WPA Pool/Getty Images Entertainment/Getty Images/ WPA Pool/Getty Images Entertainment/Getty Images
Why You *Might* Get To Catch A Glimpse Of Prince Louis Later This Week
By now, fans of the royal family are probably counting down the hours until the next royal wedding. That's because Princess Eugenie will soon be tying the knot in St. George's Chapel at Windsor Castle — the same very spot Prince Harry and Meghan Markle wed earlier this year. Although this particular wedding isn't expected to attract nearly as many viewers, it's still going to have all of the bells and whistles of a royal affair. And as the big day draws near, many royal fans are probably wondering: Will Prince Louis be at Princess Eugenie's wedding?
Princess Eugenie — the second daughter of Queen Elizabeth II's third child, Prince Andrew — will marry Jack Brooksbank on Friday, Oct. 12, as Town & Country reported. To make matters even more exciting for royal fans here in the United States, TLC will be broadcasting the wedding live, according to the publication. So you can bet plenty of people across the nation will be tuning in on Friday for the grand affair. (Although, considering it'll go down at 4:25 a.m. ET, I'm guessing the majority of viewers will be at the 7:25 a.m. ET encore broadcast.) In doing so, everyone will likely be on the lookout for other members of the royal family.
Prince William and Kate Middleton — who recently returned to royal duties, fresh off maternity leave — will undoubtedly be at the wedding with their older two children, Prince George and Princess Charlotte. What isn't a given at this point, however, is whether Prince Louis will be there with them.
The littlest prince is 5 months old at this point, and according to one royal expert, he very well might be in attendance. Royal expert Richard Fitzwilliams recently told Express there's a chance Prince Louis could be at Princess Eugenie's wedding. "It is possible Louis might appear with a nanny," Fitzwilliams told the publication. "The wedding will be undoubtedly be a joyous, colourful and fashionable affair."
If you remember, Prince Louis didn't attend the highly-anticipated nuptials between his uncle, Prince Harry, and Meghan Markle on May 19. Nor did he make it to the Trooping the Colour to celebrate Queen Elizabeth's official birthday in June. (He had a good excuse, though, considering he was born on April 23 —and was only 1 or 2 months old for these events.) Royal fans finally got to see prince Louis for the first time since he was born for his christening, which took place on July 9, according to USA Today.
At this point, it's been three months since the world has gotten a glimpse at Prince Louis. So I can imagine royal fans would be pretty bummed if the little prince ended up sitting this one out. Still, if the infant is a no-show, fans can take solace in the fact that there's only a few more months until Prince William and Kate Middleton release their annual family portrait in celebration of the holiday season.
Honestly, though? I wouldn't blame the Duke and Duchess of Cambridge in the slightest for not wanting to worry about bringing their infant to a wedding, on top of their two older kids. Whether it's because they don't want to deal with the logistics of dealing with three kiddos during a highly-televised event, or it's because they don't want Prince Louis to be a distraction from the bride and groom on their big day, this mom would totally understand.
Still, the selfish part of me kind of hopes the royal expert's prediction is correct — and we'll get a glimpse of the littlest royal, in the care of his nanny, at Princess Eugenie's wedding. I guess we'll just have to tune in, bright and early on Friday, to find out!