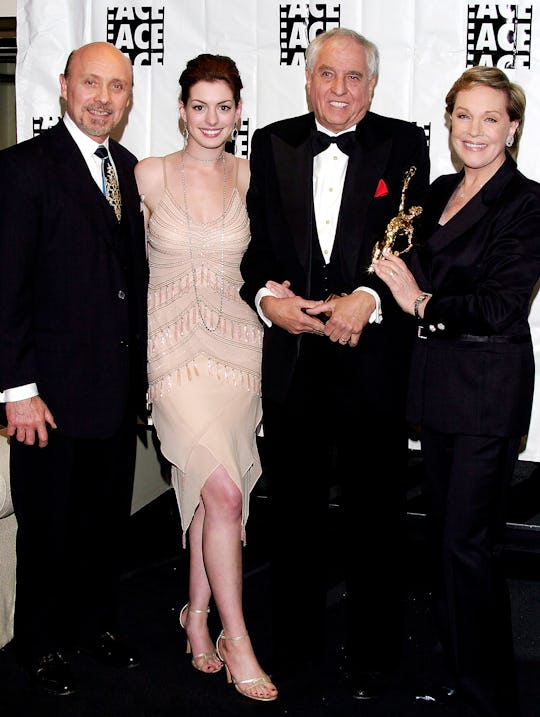 Giulio Marcocchi/Getty Images Entertainment/Getty Images
Will 'Princess Diaries 3' Happen After Garry Marshall's Death? Fans Are Bereft
Who hasn't seen a Garry Marshall movie? It's possible he is one of those directors whose movies are so familiar to us all, so much a part of our everyday vernacular, that we tend to forget the man behind the curtain. But there was obviously a man back there, someone devoted to making kind-hearted, sweet movies full of hope and simple joy. His name was Garry Marshall, and he has died at age 81. While many fans are spending a little time reflecting back on his films, some are thinking of the future. For instance, will Princess Diaries 3 happen after Garry Marshall's death?
Of course, Marshall was a well-known force to be reckoned with in the entertainment industry long before he introduced us to the people of Genovia and young Princess Mia (the role that launched the career of Anne Hathaway, praise be to the saints). The writer and director was responsible for a whole host of hits for both the small screen and the big screen, including Happy Days, Mork and Mindy, Laverne and Shirley, and, of course, Pretty Woman. He could have easily rested on his laurels for decades based on that resume alone, but instead he decided to grace audiences with a film based on a book about a misfit girl from San Francisco who doesn't know her father... and finds out that she is a princess. She also discovers that her grandmother is Julie Andrews, as if she needed any more icing on that particular cake.
Fans all over the world fell in love with Hathaway and with the movie in general. A sequel, Princess Diaries 2: Royal Engagement (2004), was one of those rare moments when the second installment managed to be just as satisfying as the first, and also managed to launch the career of another new face: Chris Pine.
So when an announcement was made in April that Marshall and Hathaway had decided to work on a third installment to the Princess Diaries franchise after 12 years, fans were ecstatic to see how Princess Mia might be faring in Genovia. Marshall told People:
I was with Anne Hathaway a couple weeks ago, it looks like we want to do Princess Diaries 3 in Manhattan. Anne Hathaway is very pregnant, so we have to wait until she has the baby and then I think we're going to do it.
Now that Marshall has died of complications from pneumonia following an earlier stroke, will the show still go on? According to frequent Marshall collaborator Hector Elizondo, it was Marshall's intention that the movie would be made. He told Entertainment Tonight:
[Anne] was talking to Garry about doing a Princess Diaries 3. He was looking forward to being involved in that one way or another. He had another movie, our eighteenth. He said, 'Hector we're gonna do our 18th.'
While we wait for news of a possible Princess Diaries 3, Marshall is being remembered by the scores of Hollywood stars who worked with him. Julie Andrews, also known as the Queen of Genovia, told Entertainment Tonight:
I am devastated to hear of Garry's passing. He was a dear friend and colleague….generous to a fault. My heart goes out to [his wife] Barbara and the entire family. We shall miss him.
My sentiments exactly.