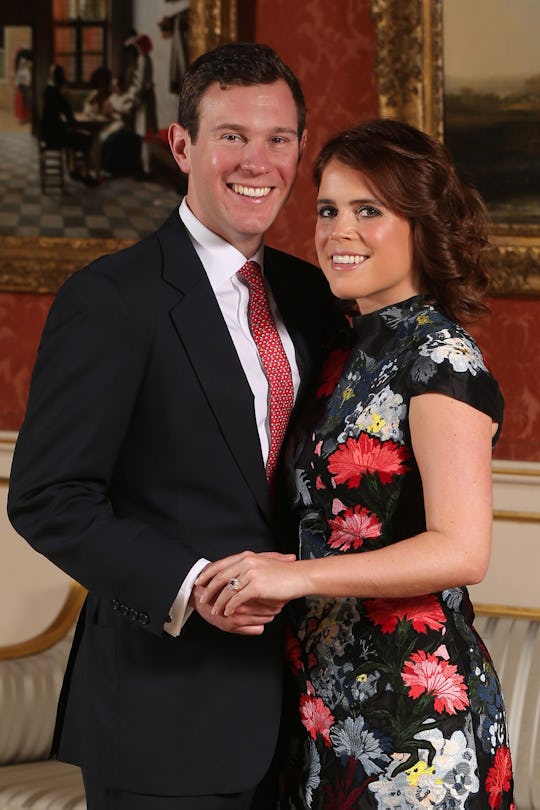 WPA Pool/Getty Images Entertainment/Getty Images
Will Princess Eugenie Change Her Last Name? She Has Lots Of Options
It never occurred to me that I don't know the last names of the royals. It's almost like their first names are their last names; like Prince Harry, Prince William, Queen Elizabeth, and on and on. So when one of them gets married, which seems to be happening a lot these days, one has to wonder what the story will be with their last names. For instance, will the latest royal to be getting hitched, Princess Eugenie, change her last name when she marries fiance Jack Brooksbank? Because it turns out she definitely has a last name that almost never gets used. Or mostly never uses, at any rate, probably on account of the fact that it's a little awkward.
According to Town and Country magazine, Princess Eugenie's full name is Princess Eugenie Victoria Helena of York. Why? Because her father Prince Andrew is the Duke of York (her mother Sarah Ferguson was the Duchess of York before the couple divorced). When Princess Eugenie marries Jack Brooksbank, a man who is not a part of the British monarchy and therefore does not have an official title, will she keep her current last name? She's quite a modern princess, as is her older sister and soon-to-be maid of honor Princess Beatrice. I mean, she even has her own Instagram account which is unheard of with the rest of the royal family.
According to the Daily Mail, Princess Eugenie is expected to fashion herself as Mrs. Brooksbank after the two are married at St. George's Chapel in Windsor Castle on Oct. 12. Sources close to the princess say that she is not a fan of all the pomp and circumstance the royal family usually adheres to, and in fact tries to avoid it. So much so that she is not listed as an official working member of the British monarchy, and her father told the publication that Brooksbank will remain a commoner after marriage.
Of course, she does have the option of keeping her title and simply add Brooksbank's last name to it. As royal historian Carolyn Harris explained to The Daily Express, a sort of precedent has been set in cases where female members of the royal family marry commoners:
The Queen's cousin Her Royal Highness Princess Alexandra of Kent became Her Royal Highness Princess Alexandra, the Honourable Mrs. Angus Ogilvy when she married in 1963. She then became Her Royal Highness Princess Alexandra, the Honorable Lady Oglivy when her husband was created a knight commander of the Royal Victorian Order in 1988.
Things were quite different when Meghan Markle married Prince Harry. The patriarchy is still alive and well within the British royal family, where women take their husband's titles automatically but it doesn't quite work out the other way around. When Markle married Prince Harry she became the Duchess of Sussex, and when Kate Middleton married Prince William in 2011 she became the Duchess of Cambridge.
It seems as though Princess Eugenie isn't overly worried about her last name as she gets ready to marry her partner of the past eight years.
Probably because she mostly goes by Princess Eugenie, so it's not really a problem.