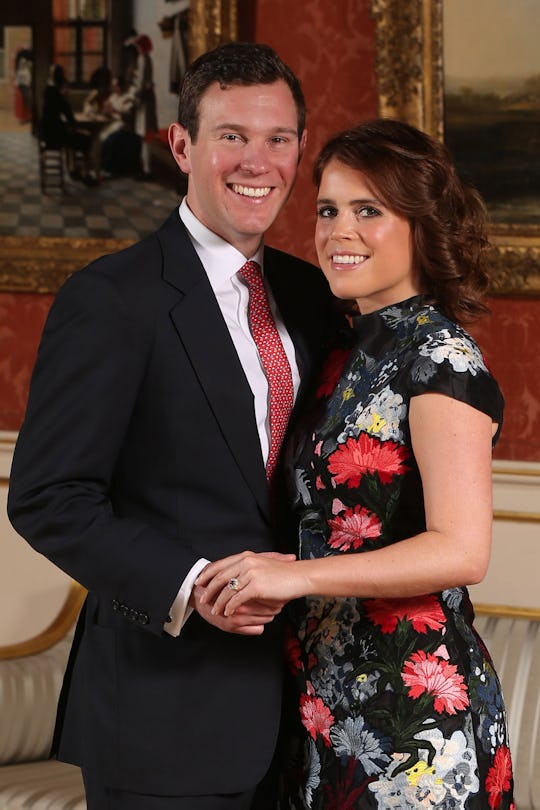 WPA Pool/Getty Images Entertainment/Getty Images
Royal Bride-To-Be Princess Eugenie Has Chosen Someone Very Special To Be Her Maid Of Honor
The royal family is rich with tradition. So, it's only natural for people to have questions about the upcoming royal wedding between the Queen's granddaughter, Princess Eugenie, and her fiancé, Jack Brooksbank. For instance, some people are probably dying to know if Princess Eugenie will have a maid of honor, because even the smallest details about her wedding are oh-so-intriguing.
Princess Eugenie will walk down the aisle in just two weeks on Friday, Oct. 12, according to Express. This means that all of the details have been set in stone and now, all she has to do, is anxiously await the moment when she can say "I do." But, if the other royal wedding from this year — between Princess Eugenie's cousin, Prince Harry and Meghan Markle — proved anything, it was that anything can happen (ahem, Markle's dad backing out of the wedding at the last minute) leading up to the final days before walking down the aisle.
But Princess Eugenie's wedding seems a little bit more low-key and drama free — and she has her family and maid of honor to thank for that. In a rare interview with Vogue U.K. last month, Princess Eugenie revealed that she would indeed have a maid of honor at her royal wedding (unlike Markle) and that bridesmaid would be her sister, Princess Beatrice, according to Town & Country.
Picking Princess Beatrice to be her maid of honor is the obvious choice — the sisters told Vogue U.K. that they are each other's "rock," which makes complete sense since they're are only two years apart in age, according to The Sun (Princess Beatrice is the older one).
Although weddings can be stressful, both of the princesses aren't feeling the pressure from the wedding planning — at least, not yet. Princess Beatrice told Vogue U.K. that her sister has it all under control, according to Town & Country. "Euge is amazing," Princess Beatrice said. "She's a very modern bride." So sweet.
But Princess Eugenie and Princess Beatrice won't be alone. In addition to having a bridesmaid, it's also likely that Princess Eugenie will also reportedly have a wedding party comprised of little kids close to the couple to help them celebrate their big day, according to Harper's Bazaar. This means that Prince George and Princess Charlotte could reportedly reprise their famous roles as page boy and bridesmaid in the wedding, according to Harper's Bazaar, which is going to be super exciting to see.
And just because Princess Eugenie is getting down to the wire doesn't mean she isn't nervous about getting married.
"It's very nerve-wracking because you want it to be perfect but then you realize that you're going to be with the person you love forever and nothing else matters," Princess Eugenie told Vogue U.K., according to the BBC.
Princess Eugenie is lucky to have her sister by her side — in a royal wedding, it isn't typical for brides to have a maid of honor or a wedding party comprised of adult female women (like it is in the United States). When Kate Middleton's sister stood by her side at her 2011 wedding to Prince William, she was seen as the exception to this rule, according to the New York Times.
So, it's pretty amazing that Princess Beatrice gets to be her sister's maid of honor.
But it's still unclear if royal watchers will get to see Princess Eugenie and Princess Beatrice live on the day of the wedding. This is because it is still unknown if Princess Eugenie's wedding will be televised, according to Town & Country. But who needs to watch the wedding on TV when there will be dozens of photos taken at the wedding and released for the public to see?
Let's be real, people will only be tuning in to see what the sisters will wear when Princess Eugenie walks down the aisle for the first time. Especially since their outfit choices have been a bit unpredictable in the past.
With Princess Beatrice by her side, Princess Eugenie's wedding should definitely be exciting.