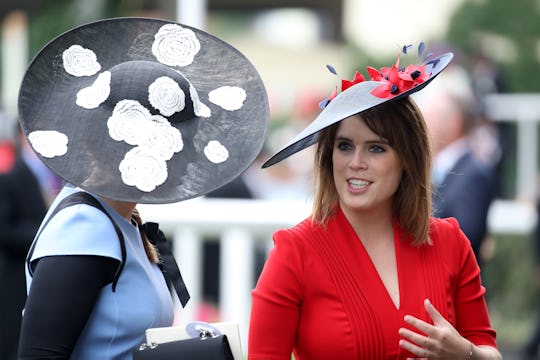 Chris Jackson/Getty Images Entertainment/Getty Images
Here's Who *May* Be Princess Eugenie's Bridesmaids In Her Royal Wedding This Friday
For both the royal family and their fans, the past year has been incredibly busy. From Prince Harry and Meghan Markle's wedding to Prince Louis' birth, a lot has been going on, and the year isn't done yet! Now, the royal family is preparing for the wedding of Princess Eugenie. When it comes to royal weddings, some traditions are a little different than regular ones, which likely has everyone wondering: will Princess Eugenie have bridesmaids? Well, here's who you can likely expect to see in the wedding party later this week.
The royal family is pretty big, so it's fair if you can't keep track of how everyone is related. Queen Elizabeth's eldest son, Prince Charles, is well known, given he's currently first in line of succession for the British throne, as reported by Town & Country. However, Queen Elizabeth has three children after Prince Charles: Princess Anne, born in 1950, Prince Andrew, born in 1960, and Prince Edward, born in 1964, according to Biography.
Princess Eugenie is the daughter of Prince Andrew. According to Biography, she also has an older sister, Princess Beatrice. Her mother, Sarah Ferguson, is now divorced from Prince Andrew. Still, since Princess Eugenie is a descendent of the royal lineage, she's a princess nonetheless.
That means public eye has turned to her in anticipation of her wedding. So, who will have the honor of playing bridesmaid?
Princess Eugenie is set to marry Jack Brooksbank at St George's Chapel, Windsor Castle, on Oct. 12, according to the BBC, and royal weddings tend to be dictated by a lot of tradition. Normally, bridal attendants tend to be young kids, like relatives of the bride and groom or the children of close friends, as reported by Town & Country.
Although nothing has been confirmed before the wedding, people have still made some good guesses. According to Hello! Magazine, the following children will reportedly serve as Princess Eugenie's bridesmaids: Princess Charlotte, Robbie Williams and Ayda Field's daughter Teddy, and Maud Windsor. Prince George will also reportedly be in attendance, as one of the pageboys, according to Hello! Magazine.
Given Prince George and Princess Charlotte are Princess Eugenie's first cousins, it makes perfect sense that they would be in the wedding party. But, what about a maid of honor?
Not every royal wedding has a maid of honor. Notably, Meghan Markle did not choose one for her marriage to Prince Harry. That doesn't mean it's not allowed, though, and Princess Eugenie has made it clear who she's picked for her wedding.
In a recent interview with Vogue U.K., Princess Eugenie shared that her older sister, Princess Beatrice, would serve as her maid of honor. She also revealed how she's feeling ahead of her big day. When asked about her upcoming ceremony, Princess Eugenie told Vogue U.K.:
I'm not stressed at all. It's very nerve-wracking because you want it to be perfect but then you realize that you're going to be with the person you love forever and nothing else really matters.
That's definitely a good way to look at it moving forward!
For those interested, it's definitely possible to tune in and watch the wedding live from the United States, if you remember to set your alarm. Maybe then you'll be able to catch all the adorable little girls in their role as Princess Eugenie's bridesmaids.