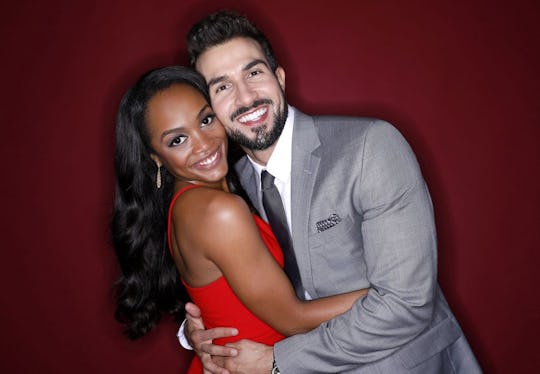 Heidi Gutman/ABC
'Bachelorette' Fans Shouldn't Hold Out For A Rachel & Peter Happy Ending
The season finale of The Bachelorette had viewers guessing the outcome down to almost the final minutes waiting for some twist to occur. But after a tearful breakup and an equally as sad reunion with Peter, Rachel's choice was all too clear. However, since she seemed to have strong feelings for both men and the cameras have stopped rolling, will The Bachelorette Rachel dump Bryan for Peter? The series showed her relationships with both men and when it came down to it, if Peter had been more willing to get engaged, it might have been an even closer call.
Right now, it seems like the newly engaged Bachelorette couple is flying high on the rush that comes with not only their newfound fame, but also being able to be out in public as a couple. But since Rachel's breakup with Peter was one of the most intense and emotional scenes of the season, that has to be difficult to ignore for Bryan. In an Entertainment Tonight interview with Lauren Zima, Rachel had a few choice words for Peter, referring to him as "manipulative," in that she felt he strung her along throughout the season despite his reservations about getting engaged.
I don't know how accurate those accusations are, since Peter did seem to repeat throughout the season his feelings on an engagement at the end of it all, but since that's kind of the endgame of The Bachelorette, Rachel probably naturally assumed that he'd get with it.
During the interview, it's difficult not to watch Bryan's face as each new batch of Peter questions come, from tightening his jaw to rolling his eyes. And honestly, anyone in his position would likely be tired of hearing about the competition and runner-up when you're just trying to be in love, but Rachel's relationship with Peter on The Bachelorette might be something that inevitably comes between the couple.
Will he come between them completely and cause Rachel to leave Bryan so soon after The Bachelorette though? It's telling that in the Entertainment Tonight interview, both Rachel and Bryan were still unsure about where they're going to live as a couple now or even when the move might come. I don't think Rachel will dump Bryan for Peter, but I do see her Bachelorette relationship with Peter getting in the way of her relationship with Bryan moving forward.
On Good Morning America Tuesday morning, Bryan said that Rachel's breakup with Peter was "tough to watch," but mostly because he saw things from her perspective, so that's probably a good sign for their future. "As a man, you feel a little frustration of how she was treated in the position she was put in for the simple fact that here I am, you know, totally committed, totally invested, totally ready to start a real future with this woman," Bryan said. "And then on the other end, you know, you have someone who's indecisive, wishy-washy, and at the same time he's telling her he's in love with her and will propose."
Those are some strong words for the man he watched his now-fiancée fall in love with on TV, and it does seem like Bryan's only concerns are with Rachel and her feelings right now. But while Rachel will more than likely not be dumping Bryan for Peter, her Bachelorette runner-up could inadvertently be the thing to drive a wedge between them.