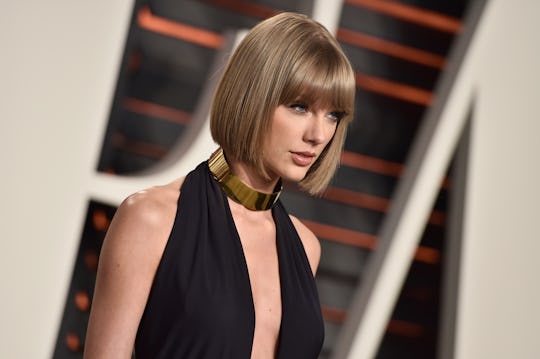 Pascal Le Segretain/Getty Images Entertainment/Getty Images
Here's Where You Can Listen To Taylor Swift's New Album 'Reputation'
Taylor Swift's long-awaited sixth album will drop on Nov. 10, following the release of several of its singles. Squad members everywhere will be scrambling to listen to it in its entirety, and for good reason. For those looking to listen to it ASAP, Reputation is rumored to be available on Spotify directly following its release. Swift's choice of platform for streaming is arguably unexpected given her history with Spotify, but all appears to be well following her return to the site.
Update: On Tuesday, Nov. 7, it was reported that Swift's Reputation "won't be available on any streaming services for at least a week" after its release on Nov. 10, according to The Verge. This report seemingly includes Spotify, but here are other ways you can listen to Swift's newest album as soon as it drops.
Earlier: For those looking to hear all of Swift's music, there are a number of options for listening. Rather than pay for the album itself, fans may want to simply stream the songs. Per the Spotify website, with log in credentials, fans can access the entire Reputation album as of Nov. 10.
In the preceding months, Swift released three singles from the album: "Look What You Made Me Do," "...Ready For It," and "Gorgeous." All three of the songs were released on Spotify, with "Look What You Made Me Do" going on to break a streaming record, according to Fortune. The single was streamed more times in a single day than any other song in the platform's history, as Fortune reported. On the day of its release, Spotify users streamed "Look What You Made Me Do" 8 million times.
A fourth single from the album, "Call It Want You Want," is scheduled to drop at midnight Eastern Time on Friday, according to Pop Sugar.
The song's success and the album's pending release on the platform may be a bit surprising to fans who remember Swift's infamous feud with Spotify in 2014. In an emotionally charged op-ed published in the Wall Street Journal that same year, Swift explained her rational for removing all of her music from Spotify, writing:
Music is art, and art is important and rare. Important, rare things are valuable. Valuable things should be paid for. It's my opinion that music should not be free.
In another interview with Yahoo, Swift further explained her decision, sticking with the idea that music should come at a cost:
I'm not willing to contribute my life's work to an experiment that I don't feel fairly compensates the writers, producers, artists, and creators of this music. And I just don't agree with perpetuating the perception that music has no value and should be free.
Following her split from the platform, Spotify issued a statement that same year explaining its hopes that Swift would change her mind, according to Entertainment Weekly. At the time, she held her ground, telling TIME in an interview, "Well, [people] can still listen to my music if they get it on iTunes."
Fortunately for fans and Spotify users everywhere, Swift did eventually return all of her music to Spotify, allowing for cost free streaming of old and new music alike.
Reputation continues the edgier image that was introduced in the single "Look What You Made Me Do." The new music will come from old collaboration partners, such as producers Jack Antonoff, Max Martin, and Shellback — all of whom are hit pop music producers that Swift has worked with before on other songs, according to MTV. The old faces won't mean the same old music from Swift, though. MTV reports that the rest of the album will likely continue in the same mood as the three released singles, "digging deeper and going darker" than earlier music.
One lucky fan who was privy to one of Swift's "Secret Sessions" parties tweeted a description of the album, calling it "sexy, shady, a nighttime album, more emotionally complex than 1989, and better than Red."
Prior to releasing her own album on Spotify, Swift blessed fans with a Taylor-made playlist called "Songs Taylor Loves." The list included songs by Cigarettes After Sex, The xx, Bon Iver, and Dum Dum Girls, Daniel Caeser, Maren Morris, Ryan Hurd, and Khalid, according to Uproxx. Many have speculated that the playlist represents influencers on Reputation.
With the new album hitting Spotify on Nov. 10 and the platform's exclusive playlist of Swift's favorite jams, it is safe to say that streaming and Taylor Swift are a happy pair once again. Who knows what other records the two could break in the future.
Watch Romper's new video series, Romper's Doula Diaries:
Check out the entire Romper's Doula Diaries series and other videos on Facebook and the Bustle app across Apple TV, Roku, and Amazon Fire TV.