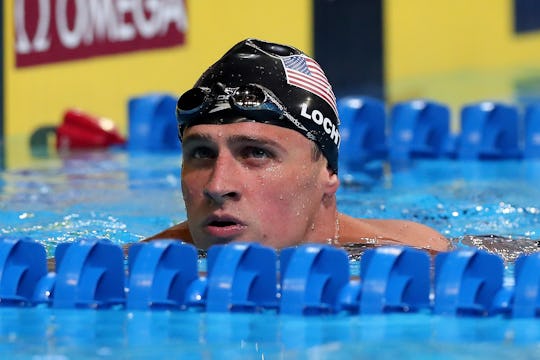 Tom Pennington/Getty Images Sport/Getty Images
Will Ryan Lochte Be At The Olympics Closing Ceremony? Probably Not
So here is what we know so far about the Olympics closing ceremony: Kygo will be performing. The Olympic flag will be passed on to the mayor of Tokyo, the host city for the 2020 Olympic Games. There will be a ceremonial dousing of the Olympic flame. And Olympic medalist Simone Biles will be carrying the U.S. flag. Otherwise, the closing ceremony is still a mystery. Except for one thing, I suppose. If you are wondering if Ryan Lochte will be at the Olympic closing ceremony, I can offer you a pretty definitive answer to that one. Probably not.
While many of the Olympians stayed in Rio to celebrate the end of two long weeks of international competition this Sunday (airing on NBC at seven o'clock EST), 12-time Olympic medalist Lochte was not one of the ones who stuck around. He headed for home not long after he and three of his fellow members of the U.S. swim team got into a bit of a pickle with the Brazilian police, and it would be beyond surprising to see him return. Lochte might be one of the top two swimmers in America, a golden boy of the Olympics... but he's not exactly a hit with the Brazilian people these days.
On Sunday Lochte claimed he had been robbed at gunpoint in Rio by armed men dressed in police uniforms. Lochte and his teammates (Jack Conger, Jimmy Feigen, and Gunnar Bentz) initially told Brazilian police (after local law enforcement was alerted to the situation by none other than Lochte's mother, Illeana Lochte) that they had been robbed but left with their credentials, watches, and identification.
It turns out, the four swimmers had vandalized a gas station and the "police" were actually security guards demanding the swimmers pay for the damage. By the time Brazilian police were in a position to speak with the swimmers, Lochte had already left for home. Two of the other swimmers, Conger and Bentz, were on their way home when Brazilian police had them removed from the plane for questioning. They gave statements corroborating the police version of the story, and were allowed to go home after making a charitable donation.
Lochte has since apologized for lying about the incident.
Whether or not the Brazilian people, who were reportedly "humiliated" by the incident, will see this apology as acceptable or not. Glenn Selig of The Publicity Agency in Tampa , Fla., told The Los Angeles Times some might see the apology as less than sincere.
He apologizes but never says what he's apologizing for. You wonder, is he really sorry? He sort of portrays himself as a victim.
It's a sad end to what should have been a celebration for Lochte. Unfortunately, he won't be standing shoulder to shoulder with his fellow american athletes at the Olympics closing ceremony. Instead, he might be working on damage control and a public relations nightmare.