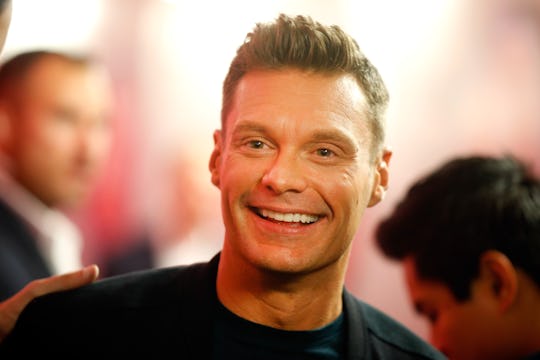 Isaac Brekken/Getty Images Entertainment/Getty Images
Will Ryan Seacrest Be At The 2018 Oscars Red Carpet? Some Fans Are Outraged
On Monday, Variety published an extensive interview with Ryan Seacrest's former stylist, Suzie Hardy, who accused him of sexual assault. In the detailed interview, Hardy discussed her sexual harassment and assault allegations against Seacrest and she also elaborated on the letter her attorney sent to E! in November 2017 when the claims first surfaced. Hardy's story is troubling, to say the least, and the renewed interest in her allegations has many people wondering if Ryan Seacrest will be at the 2018 Oscars red carpet on Sunday. As some fans probably already know, Seacrest has hosted the Oscars pre-show for years on behalf of E!, and he often snags highly-coveted celebrity interviews. So, will Seacrest go to the Oscars as planned? As it turns out, some fans are calling for Seacrest to skip the highly-anticipated event altogether.
When news of Hardy's claims first broke in November 2017, Seacrest adamantly denied any wrongdoing and he referred to the allegations as "reckless," according to ET Online. And to hammer home his point, Seacrest penned a lengthy op-ed about his innocence in The Hollywood Reporter. "To have my workplace conduct questioned was gut-wrenching," Seacrest penned in the Feb. 5 piece, according toTHR. "I've always aimed to treat all of my colleagues with honesty, respect, kindness and compassion."
Some critics have said Seacrest may have been trying to get ahead of Hardy's concerning interview, because just 21 days later, the Variety article dropped. And in the article, Hardy accused Seacrest of everything from expressing unwanted romantic interest in her to grabbing her vagina after she rejected one of his alleged advances. In one incident at the Roosevelt Hotel in Los Angeles in 2009, she claims Seacrest "climbed on top" of her while "rubbing his erection against her," according to Vox. Hardy went on to allege in the piece that after she addressed these claims with E!'s human resources department in 2013, she was let go from her job.
As for E!'s side of the story, an E! spokesperson tells Romper in a statement about the network's November 2017 investigation into Hardy's claims:
E!'s investigation was extremely comprehensive and thorough. Over the course of a two month process, our outside counsel interviewed more than two dozen people regarding the allegations, including multiple separate meetings with the claimant and all firsthand witnesses that she provided. The investigator is an attorney with nearly 20 years experience and is highly regarded professionally. Any claims that question the legitimacy of this investigation are completely baseless.
Given E!'s response, it's not shocking that Seacrest *will* be at the Oscars as usual. E! confirmed Seacrest's attendance to CNN on Tuesday and it's likely the pre-carpet show will go on as planned.
But while Sunday will be business as usual for E! and Seacrest, some fans aren't thrilled that the host will attend the event in light of the allegations. And, unsurprisingly, the #MeToo and Time's Up movements are at the center of these discussions.
Outrage aside, it will be interesting to see if any celebrities involved in the Time's Up movement will skip their interview with Seacrest. A few publicists, according to Page Six, are considering having their clients avoid Seacrest altogether. One unnamed publicist explained, according to Page Six: "Usually Ryan is the one you want . . . but there are so many outlets on that carpet, why risk it? There's plenty of other places for clients to get the exposure."
"If it was a [client who had been involved in the #MeToo movement], I would never put them in that position. I don't think any smart person would," another unidentified source added.
So, while Seacrest will be at the Oscars, it's still unclear how these allegations will play into the evening. What's likely, however, is that many people will tune into the red carpet show to see what happens.
Check out Romper's new video series, Romper's Doula Diaries:
Watch full episodes of Romper's Doula Diaries on Facebook Watch.