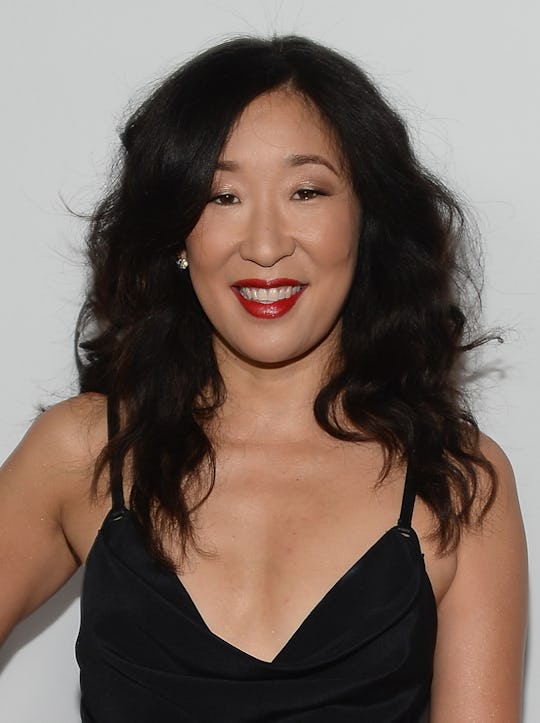 Michael Buckner/Getty Images Entertainment/Getty Images
Will Sandra Oh Be In 'Grey's Anatomy' Season 13? No, But 'American Crime' Snagged The Star
Dr. Cristina Yang will forever be known as Meredith Grey's person and one of the fan favorite characters on the long-running Grey's Anatomy. Despite the fact that the character left the show after her portrayer, Sandra Oh, departed the series several years ago at the end of Season 10, fans have consistently held out hope that the relentlessly ambitious doc would return to Seattle Grace, reuniting with her forever BFF Meredith. But the question of whether Sandra Oh will be in Grey's Anatomy Season 13 seems to have been finally, definitively answered – with a resounding "nope," because she's booked another big role.
Earlier this month, there were whispers about the possibility of Oh returning as her beloved character nearly three years after her initial departure. The former Grey's actress unambiguously shot down those rumors in an interview with ET Canada, saying that, no, she did not have any plans to return to ABC's hit medical drama anytime soon. Before that, she'd mostly played coy with rumors of a return apperance.
This was hugely disappointing for many fans who love the deep bond between Meredith and Cristina – especially in light of the death of yet another OG Grey's character, Meredith's husband Derek Shepherd in Season 11, when it seemed like the core cast of originals was dwindling. At one earlier point, shortly after her initial departure from the show, Oh told The Hollywood Reporter that she'd be down to return to the show for the eventual series finale, which got fans' hopes up that at least a brief drop-in might be imminent.
Now, news has hit that Oh will be joining another ABC show – the critically-acclaimed, award-winning hit anthology drama American Crime. ABC announced that the actress has booked a multi-episode arc, playing Abby Tanaka "a social worker who runs a local shelter dedicated to housing victims of domestic abuse in the face of community indifference."
On the one hand, this is amazing news. American Crime is a great show, and Sandra Oh is a great actress. We've all missed having her on our small screens since she departed from Grey's Anatomy in 2014. Oh has appeared in a handful of films since then, as well as one web series called Shitty Boyfriends, from Lisa Kudrow via Refinery29. All of that's great, but it didn't quite give us the regular dose of Oh that we were all looking for in our daily lives, post-Cristina Yang.
On the other hand, we can't help but be bummed that this role will, in all likelihood, prevent Oh from having the time to film appearances as her former Grey's character for the upcoming season. We're still hoping that Cristina will pop on over to say hey to her person, okay?
Fingers crossed that Grey's creator and ABC wunderkind Shonda Rhimes can arrange some kind of a deal with the folks over at American Crime to borrow Oh for a quick sec. In the meantime, we can definitely count on seeing Oh on American Crime when it returns for its third season in 2017.