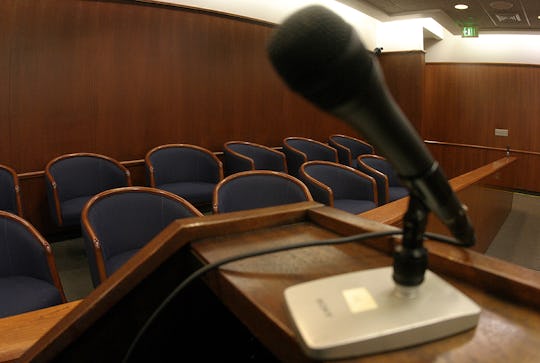 Pool/Getty Images News/Getty Images
Will 'Serial' Return For Adnan Syed's Retrial? It's Definitely Possible
Followers of the hit 2014 podcast Serial have been eager for an update on Adnan Syed's murder trial for the 1999 murder of his ex-girlfriend Hae Min Lee. Now, after two years of waiting there is a new development: On Thursday afternoon, a judge granted a new trial and vacated Syed's conviction. The podcast that brought Syed's case to the mainstream, hosted and produced by This American Life's Sarah Koenig, has been heard by millions, but will Serial return for Adnan Syed's retrial? Considering the popularity, mass following, and media attention the first season garnered, it's definitely possible.
Koenig hasn't commented yet if the Serial team will return to cover the retrial, but a reporter for The Baltimore Sun, Justin George, tweeted that she was "surprised by #AdnanSyed getting a new trial & is still processing everything."
Months before news of a retrial was announced, Koenig wrote an email to the podcast's subscribers to tell them that she decided to "duck back into" Syed's case. She returned to Baltimore for the three-day long hearing in February, which ultimately led to the judge's decision on Thursday. She posted a series of conversations with her producer, Dana Chivvis, from the closet of her hotel room and recapped the hearings for listeners.
Syed's murder conviction was granted a new trial on multiple grounds, one of those his defense team argued was an "ineffective assistance of counsel". His original trial lawyer, Cristina Gutierrez, failed to follow up with a potential alibi witness, Asia McClain who said she saw Syed after school in the library for about 15-20 minutes on the day Lee was murdered. Gutierrez also failed cross-examine a key witness from the prosecution — an AT&T engineer who had said he had never seen a "crucial disclaimer about cell tower data," which would have changed his testimony, according to The New York Times.
Although the defense team's argument during the February hearings mostly focused on McClain's alibi, it was the issues with the cell data used as evidence that Judge Martin Welch cited as the reason for a new trial.
Serial fans were thrilled when Koenig returned to Syed's hearing in February and had hoped for more closure to the case. As listeners learned, the case is severely complex and, for some (including Koenig), it was impossible to conclude if Syed actually strangled his ex-girlfriend to death. So, if the Serial team does decide to cover the retrial, perhaps with more time to dig deeper and process new facts and evidence, there might finally be a concrete answer to the question: Who killed Hae Min Lee?