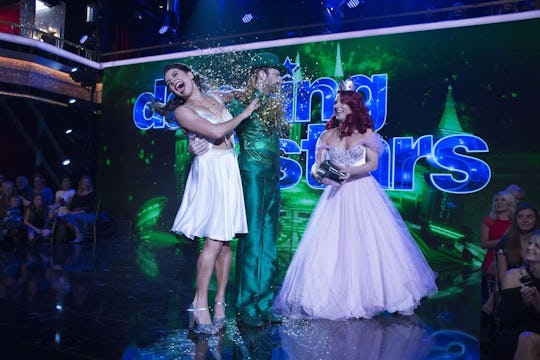 Eric McCandless/ABC
Will Sharna Burgess Return To 'Dancing With The Stars'? She's On The Mend
There is possibly nothing more devastating for any professional athlete, including dancers, than an injury that has them sidelined. For example, Dancing With the Stars pro Sharna Burgess sat out two weeks of competition due to a knee injury. So will Sharna Burgess return to Dancing With the Stars or is she out of the competition for good? She and her partner James Hinchcliffe work so well together, it would be tragic if she wasn't able to dance with him in the finals, even though he and stand-in partner Jenna Johnson have done so well as a team.
During the team dance, choreographed to an 18th-century Scottish song some might recognize as the theme song to Outlander, Sharna injured her knee. Much as she wanted to go on, her doctors forbid her from dancing until her injury had healed completely. It wasn't immediately clear for how long Sharna would have to wait before she was allowed back on the dance floor, and so far it's been two weeks. On Halloween night, Hinch scored his first perfect 30 out of 30 with stand-in partner Jenna to a Suicide Squad-themed dance. While Sharna had planned to be back in action the following week, it turned out her injury was still too critical for her to return, so James danced with Jenna for a second time. So now will she finally be back?
She's definitely not going to take any risks with her body. In an interview with Entertainment Tonight, she said:
Yes, about 16 years ago I was dancing in the [ballroom] World Championships and I hurt my knee. I had slightly torn my ACL, but when I found out we had made the finals, I refused to not dance. I made them put cortisone in my knee and I went there and danced basically half the finals, and tore my knee up completely, my ACL, I ripped it in half. So, that was a really bad decision.
As much as fans would all love to see the dream team of Sharna and Hinch back to full glory, it definitely shouldn't come at the expense of Sharna's actual career. Luckily, she seems almost 100 percent confident that she is back and ready to take this thing to the finals. James has been called the best male dancer the show has ever had, and Sharna has ever intention of finishing the competition with him. During an interview with E! Online she said, "And now I can officially say I am back! I am feeling great and so excited to be back dancing with James this week! It has been amazing to watch him deliver such great performances these past two weeks, but I am so excited to be back in for the semi-finals and take James to the finale!!"
If that's the case, I can't wait to see what fantastic performances these two have in store for us next and whether or not all their hard work will earn them that coveted Mirrorball trophy.