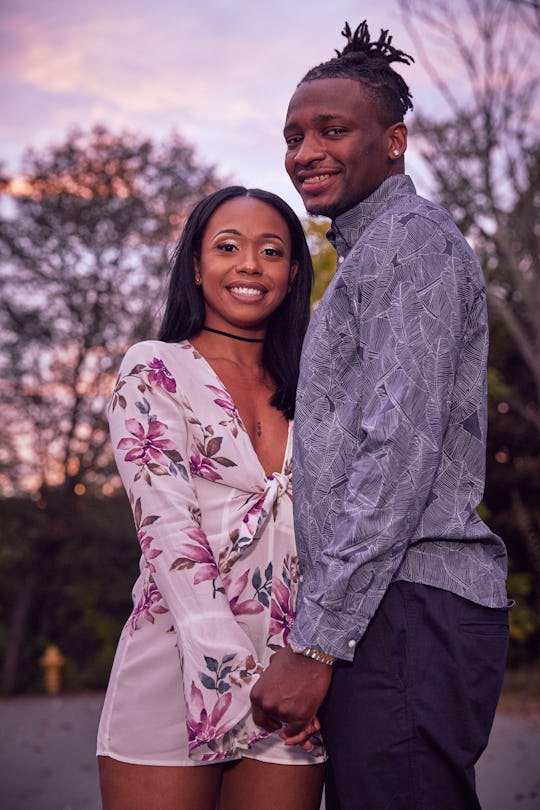 Karolina Wojtasik/Lifetime
Shawniece & Jephte Are Dealing With Their Issues On 'MAFS: Happily Ever After'
Jephte Pierre and Shawniece Jackson stayed together after their eight weeks on Married At First Sight. Despite the whirlwind, they seemed to be making it work and even welcomed a daughter, Laura Denise Pierre, this year. But on their spinoff series, it seems like things might have gotten a little rocky between them. Will Shawniece and Jephte break up after Married At First Sight: Happily Ever After?
At the moment, Shawniece and Jephte are still together, and it's impossible to predict ahead of time whether or not that will change. They have had issues in the past that have come up on the show, though they've remained married throughout their ups and downs. Communication was an issue for Jephte and Shawniece early on, and that contributed to a brief separation they had before their daughter was born.
They were apart for two to three weeks, a decision that was put into motion by Shawniece. While speaking with Dr. Jessica, Shawniece revealed that they had been arguing a lot and it was clear Jephte wasn't happy. "So I just said, 'After eight months, if you're still not happy, then what are we doing?'" Shawniece said in a confessional. "So I just made the decision to separate."
During the session, Jephte explained that Shawniece took their wedding rings when she found out he wasn't faithful to her after they separated. Though they were still married, they weren't together, so Jephte felt he had to "get back to being who I was before all of this happened." Shawniece was upset by that, and it prompted their weeks-long separation. Meanwhile, Jephte wasn't in a good place mentally, which was partially brought on by intense social media scrutiny.
"My head was just so messed up," he told Dr. Jessica. "Like, I was reading the worst things about myself and I started to internalize that stuff." He had never felt like that before, and it scared him. It felt like he was mentally drowning and his whole brain was numb. Jephte apologized for not letting Shawniece in on how he was feeling, but said he didn't know how to communicate. He was also afraid of upsetting her in the early stages of a high risk pregnancy.
At the time, he thought the best thing for the baby would be to keep what he was going through to himself. Shawniece assured him that by separating, she had been trying to protect herself, not walk away from him. It was an emotional conversation for both of them, but being so open and vulnerable might have helped strengthen their relationship.
In the episode where they welcomed their daughter, Jephte noted that he and Shawniece were in a "much better place than we were a whole year ago." He hoped to be a good father and husband, and based on social media it seems like they're going strong. There's always a chance that any couple could break up one day (who knows what the future holds), but it looks like Jephte and Shawniece are trying to stay together.
This first-time mom wants to have a home birth, but is she ready? Watch how a doula supports a military mom who's determined to have a home birth in Episode One of Romper's Doula Diaries, Season Two, below. Visit Bustle Digital Group's YouTube page for the next three episodes, launching Mondays in December.