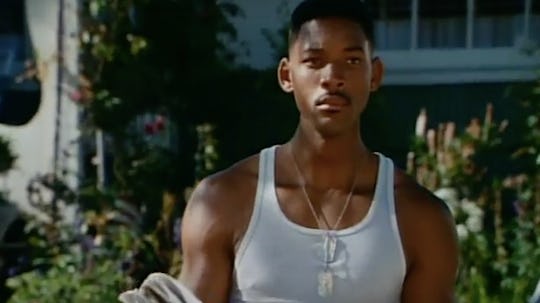 Will Smith's Fate In 'Independence Day: Resurgence' Revealed, & It's News All Fans Need To Hear
The trailer for Independence Day: Resurgence came out Sunday, December 13, and while fans are loving the action-packed sneak peek, they're also freaking out over the fact that one familiar face seems to be missing: Will Smith. As it turns out, Smith's character, Col. Steven Hiller, was killed off after Smith decided to opt out of the sequel. 20th Century Fox created a website to explain his death, the War of 1996, and the events surrounding it: apparently, Col. Hiller went down along with the first alien hybrid fighter in 2007, due to a malfunction.
The website explains:
Hiller's valor in the War of '96 made him a beloved global icon whose selfless assault against the alien mothership lead directly to the enemy's defeat.
It goes on to add that he is "survived by his wife Jasmine and son Dylan." Director Roland Emmerich explained that originally, Resurgence was going to include Smith and play up a father-son dynamic with Hiller's son, Dylan, played by Jessie Usher, but unfortunately for all us, that wasn't the case. Emmerich explained to Cinema Blend that Smith grew tired of sequels: "I wanted to work with him and he was excited to be in it, but then after a while he was tired of sequels, and he did another science-fiction film, which was his father-son story, so he opted out."
No big deal — that sounds perfectly reasonable, and the Independence Day trailer makes it seem like Resurgence is going to be wicked with or without Smith, right? Right? RIGHT?!!?! Except no, it won't be. It totally is a big, huge deal to fans of the original Independence Day, because Smith was The Guy. I mean, c'mon, he took on the aliens, won, and smoked a cigar in the cockpit with Jeff Goldblum. I don't know what kind of fantasy world you're all envisioning, but it does not get ANY better than that.
Following the release of the trailer, fans immediately nosedived into fear over what would happen to Smith in the sequel (or whether or not his fate had already been revealed: Was he alive? Hiding? Would he make his triumphant later in the movie? Was 20th Century Fox trying to keep his role a secret? DID THE ALIENS FIND HIM?
The answer is far less ideal than any of those possibilities, but some fans are holding out some hope that he appears at least a little in the film, perhaps in the form of flashbacks or memories. Others are just downright angry (and I salute them). Twitter was, naturally, the first place fans went to begin the healing period:
Personally, I've got mixed feelings. I'm in love with Will Smith — I don't say that lightly — but Liam Hemsworth is nothing to complain about either. I have a feeling that no matter who was cast (hey, we still have Goldblum and Pullman and Vivica A. Fox), fans will be back to get some more Independence Day viewing in regardless of Col. Hiller's unfortunate demise. Besides, there's no better excuse to rewatch the original with some new appreciation for both Smith and the film. Right?
Image: FHEfoxconnect/YouTube