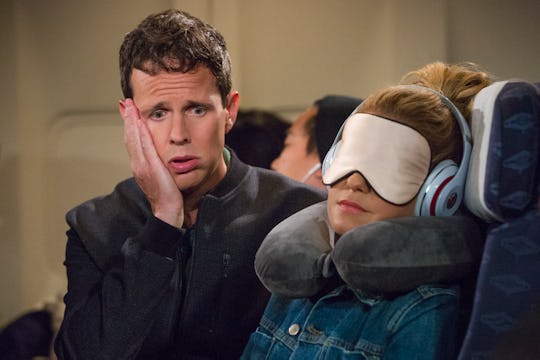 Mike Yarish / Netflix
Steve's Wedding May Not Have A Happy Ending On 'Fuller House'
Warning: spoilers from Fuller House Season 3 ahead! Everyone loves a happy ending. Which is why fans are dying to know if Steve will really marry C.J. in Fuller House or if he'll find his way back to D.J. by the end of Season 3. His relationship future seemed really up in the air until now, but he announced in the first episode of Season 3 that he was definitely marrying D.J.'s personality doppelgänger, C.J. in Japan this year. Likely, Steve's wedding will be the "big event" that the whole season builds up to. However, this third season is actually 18 episodes long instead of just the usual 13. Netflix is releasing the first nine on Sept. 22, but fans will have to wait for the rest of the season until a later day. I, for one, smell an airport-based cliffhanger coming our way.
Or maybe not! It's hard to tell what the writers have planned. So let's go back first before we start to make predictions. Fans will remember that Season 1 opened with D.J. returning to her family home and Steve was all over her. And so was her hot colleague, Matt. But in a hilarious Bachelor-esque spoof, D.J. told both guys that she wanted to work on herself and be alone for a little bit, sending them both on their respective ways. Flash forward to Season 2.
In Season 2, Matt and Steve come back BFFs (they didn't like each other before) and with girlfriends on their arm... just when D.J. had finally decided that she wanted to choose one of them. Eventually, she and Matt come together as he realizes that he isn't very into his girlfriend (in one episode, he even leaves her at the Tanner house when he gets called away to work). But Steve's situation is a little more complicated.
His girfriend is just like D.J., which is pretty hilarious. And he loves her, obviously, since he proposed. But he does look a little surprised when D.J. and Matt finally get together and at the high school reunion in Season 2, he and D.J. have a few very special moments together, making it seem like there are still feelings between the two of them. But then he asks D.J. to help him write his proposal for C.J. and in Season 3, he makes D.J. sit in on the wedding planning while C.J. recruits her as a bridesmaid. But will Steve be able to go through with it with D.J. there?
I guess it depends on whether D.J. is still in love with Steve or not and vice-versa. At the end of Season 2, she revealed that she originally was going to pick her high school sweetheart before they announced their girlfriends. Early in Season 3, she tells Matt that she loves him. But maybe D.J. and Steve are each moving on with their own love lives because they think the other person is. Classic sitcom move, right?
Then again, maybe it's just not meant to be. If the show wanted to be really new, the writers should maybe let D.J. and Steve end up happily ever after — as far apart as possible. There are tons of fans out there who seem to think that Steve and D.J. aren't meant to be anymore (including Stephanie) and that their time has passed. Others, not so much. One Twitter user wrote, summing up every '90s girls' feelings, "I need DJ & Steve reunited on # FullerHouse. My inner 14-year-old can't stand them being apart."
If I had to put any money on it, though, all signs point to Steve having some sort of crisis before getting to Japan and walking down the aisle with C.J. But he's going to have to be the one to clue in and get the woman he's actually in love with. Because everyone knows D.J. is too nice to break up a happy couple.
Watch Romper's new video series, Romper's Doula Diaries:
Check out the entire Romper's Doula Diaries series and other videos on Facebook and the Bustle app across Apple TV, Roku, and Amazon Fire TV.