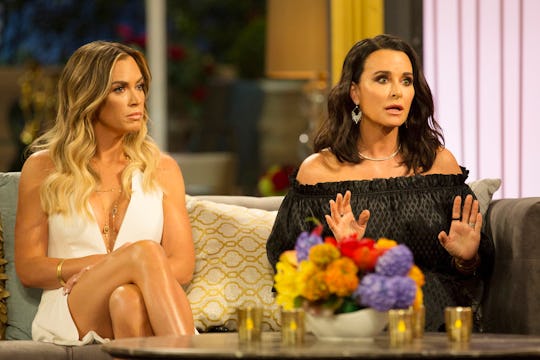 Isabella Vosmikova/Bravo
Teddi Jo Mellencamp Opens Up About Her Future On 'RHOBH'
It is never easy to join a Housewives cast and Teddi Jo Mellancamp is living proof of that. Season 8 of The Real Housewives of Beverly Hills was rife with drama and she somehow always managed to end up right in the eye of the storm. So now that the reunion is upon us, there's just one huge question that remains: will Teddi Jo Mellencamp return for RHOBH Season 9? It was quite the learning experience for her.
Teddi, mom of 5-year-old Slate and 3-year-old Cruz, is the daughter of rock and roll star John Cougar Mellencamp, so while she might be used to being famous, it didn't seem like she was ready for the glitz and glam of Beverly Hills. Or at least the drama, especially since she didn't know any of the women before joining the cast, as she told Romper during a phone interview just days before the Season 8 reunion. In fact, her only connection was Dorit Kemsley, with whom she shares a mutual friend. But now that she's had her Bravo debut, is Teddi up for another season or what?
Sadly, that information is still top secret for now. However, Teddi did open up about her experience on the show and gave some hope that she may be interested in coming back for more.
"I can't really talk about [coming back] yet," she tells Romper, adding:
All I can say is that I don't have any regrets from this season. Anytime I felt passionate about something, I spoke up. Anytime I felt hurt, I was honest and showed my true emotions. I think the biggest reason I would have had regrets was if I wasn't myself. I couldn't not be myself, good or bad.
It sounds like there's more than a shred of hope for Teddi's RHOBH future, because despite all appearances, she did have fun. "All in all, it was a good experience whether I was crying or laughing," she added. "I made some real friendships from it and I think as long you are always authentically who you are, then you're going to form relationships with the people who are most like you." I don't know about you, but it sounds like a Season 9 contract might be in the stars. (*Fingers crossed!*)
Not that she isn't busy with other things, of course. But finding balance in her life, and helping other women find it, too, is literally what she does for a living. If Teddi seemed like she didn't have time for RHOBH drama, it's probably because she actually didn't have the time when she had her family and job to think about, too.
Teddi's coaching business, LA Workout Junkie, boasts over 350 clients, along with 12 other coaches who have all been through her program themselves. Her clients set health and fitness goals, and then she has them send daily photos of their meals and workouts. As a coach, she cheers them on or talks them through the rough patches, as required. But, it's not just about weight loss. Teddi explains:
The biggest thing for me is the shift ...on women's lives when they're feeling their best? It's so huge. You feel empowered to tell your boss you're ready for that promotion. You feel empowered to have a conversation with your husband about the balance you need in your life. You start taking charge of your life, instead of feeling like you're going through the motions.
Juggling her business, family, and the show definitely won't be a problem if she does decide to come back for Season 9, though she admits to feeling a like she's missing out sometimes. "I have those moments of mom guilt [doing so many things]," Teddi says. "But, I tell myself, because of what I'm doing for my job and for myself, it makes me such a better mother. If I didn't focus on me or my job a little bit, I might not have as much patience as much love, as much excitement, as I feel with my kids that I do now."
The good news is that her family is totally supportive of her role on TV. While she hasn't let her daughter watch the show, Slate heard through the pre-school grapevine that her mom was on the tube.
Teddi makes a point of trying to be honest with both of her kids about what's going on, explaining that "mommy films with some friends and some days are good and some days are bad." Like only a 5-year-old can, Slate can sense what's up, depending on her mom's mood in the morning. "She'll be like, 'Did you get your feelings hurt yesterday?' I'm like, 'No, I was OK.' We have an open dialogue about it," she states. "Cruz can care less. I'm not a Power Ranger, so he's like, 'I'm out, mom.'"
So maybe her kids and husband, Edwin Arroyave, will help her make a decision about whether or not to come back for another season. In the meantime, she's working on "amping up" her business, training for a marathon, and spending time on family vacations in the coming months. Hopefully, the downtime will bring her back to Bravo next year. Because The Real Housewives of Beverly Hills could use a little more straight talk from Teddi.
Check out Romper's new video series, Romper's Doula Diaries:
Watch full episodes of Romper's Doula Diaries on Facebook Watch.