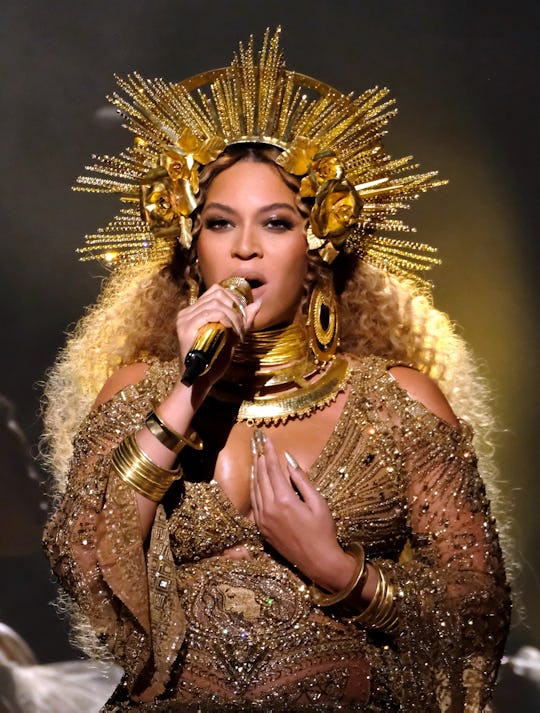 Larry Busacca/Getty Images Entertainment/Getty Images
Will Bey's Twins Shut The Hospital Down?
Even for a mega-celebrity, Beyoncé has a reputation for being notoriously private. So, even though she's shared precious but tightly controlled glimpses into her second pregnancy on social media and her website, her enthusiastic, gigantic fanbase has been left speculating about when her twins are due. The time for the Carter-Knowles empire to expand is getting close, though, meaning that the Queen has undoubtedly established a birth plan to maximize her own privacy and that of her family when that day comes. That's bound to include ample security and accommodations fit for a star, as the family had when daughter Blue Ivy Carter was born five years ago — but the question of whether the hospital where Beyoncé delivers will shut down is another story.
Although Bey and husband Jay Z have been tight-lipped about their babies' due date since news of the pregnancy went public Feb. 1, the sight of her bare belly adorned in henna at her baby shower over the weekend indicates that the moment is getting close. Which more than likely means that the medical professionals and staff at Cedars-Sinai Medical Center in Los Angeles — where Beyoncé could reportedly give birth — are more than prepared to meet her unique privacy needs after assiduous preparation. After all, with some celebrity press editors likely willing to give anything in exchange for footage of Bey at the hospital, hers will be no normal delivery from a security standpoint.
Case in point: The birth of Beyoncé and Jay Z's first child, Blue Ivy, in January 2012. The pair did not shut down Manhattan's Lenox Hill Hospital to shield themselves from prying cameraphones — an option that isn't really an option, considering the other patients and their families. Instead, they rented a luxurious executive suite that boasted flatscreen TVs, sofas, a kitchenette, and more for about $800 per night, The New York Daily News reported.
Still, some parents of babies being treated on the hospital's neonatal unit at the time complained to local publications that Bey-related security had curtailed their movements within the hospital and their access to their own newborns, according to The New York Times. Days later, New York state health officials dismissed the two official complaints they received, according to Today. For its part, the hospital pledged to conduct its own inquiry about the complaints, but it also denied swirling media reports that the celebrity couple had forked over more than $1 million to have an entire floor to themselves for the birthing experience.
With all the media attention surrounding the upcoming birth of their twins, Beyoncé and Jay Z probably wish they could shut down an entire hospital to ensure their privacy. Even when you're a super rich celebrity with an entourage to cater to your every whim in tow, the birth of two babies must be a bit stressful, and having to worry about images of incredibly private and intimate moments somehow making their way onto the internet would make it even more so.