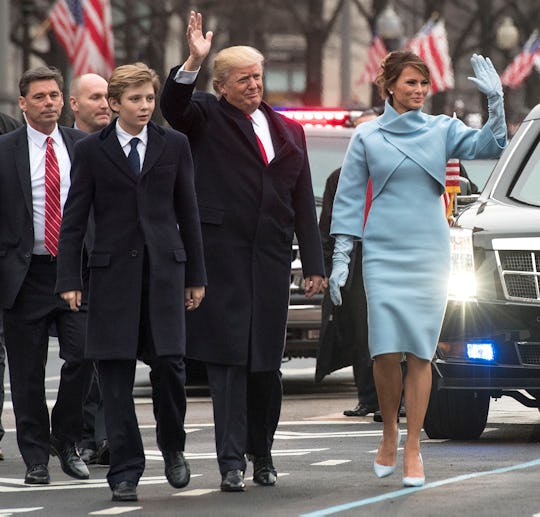 Pool/Getty Images News/Getty Images
Is A Presidential Pet In The Trump Family's Future?
After a few months of disenchanted will-they-or-won't-they from aggrieved Trump-watchers, first lady Melania Trump and son Barron, whom she shares with husband and President Donald Trump, are reportedly headed to the White House to live full-time in June. All of that means leaving behind the family home in New York City's Trump Tower as well as scoping out a new school for the 11-year-old, but there's another presidential tradition that could make Barron feel more at home: So, will the Trump family get a pet? So far, the 45th president is the first in a century and a half not to introduce an animal companion to the White House, but (despite the never-ending stream of controversies and scandals that make it seem like it's been 150 years since Trump's inauguration), the administration is still young.
Taxpayers critical of Donald Trump have been grumbling about the hefty price tag associated with protecting Melania and Barron's New York City abode since Inauguration Day in January. But Melania had reportedly opted to remain in New York just until Barron's school year ended, ostensibly to make the transition easier on Barron. So, now that he's moving (and his dad could really use a PR boost thanks to his dismal approval ratings), now would be the time to let the country know if there is a first dog, for example, on the horizon. Romper reached out to the White House to ask about the president's intentions, but has not yet heard back.
Back in December, The Washington Post reported that a philanthropist and longtime Trump acquaintance named Lois Pope had tried to give a 9-week-old Goldendoodle to the first family. Apparently, the animal advocate even went as far as to show Barron a pic of the pup at the Trumps' Thanksgiving event at the Mar-a-Lago estate in Florida.
"It'll help with the transition. It'll take away some of the wonder and awe," Pope told The Post ,after claiming that the image of the dog, Patton, had reportedly caused Barron to tear up (as it would anyone, to be fair). "I mean, can you imagine moving into the White House as a child? It's hard."
As far as the public knows, though, the president never adopted the dog. That wasn't the case for his predecessor, though: Barack Obama adopted two Portuguese water dogs during his eight-year stint in the White House. And in 2016, then-first lady Michelle Obama told the PBS NewsHour that Sunny and Bo actually had official White House schedules.
If the Trumps do want a pet but don't want to go the cuddly route that most of the first families who came before did, it wouldn't be entirely without precedent: The Huffington Post reported that Teddy Roosevelt's family had a garter snake named Emily Spinach.
And, as Trump is so used to doing, he can pretty much make his own rules on this front.
"I believe President-elect Trump could move a giraffe into the Roosevelt Room if that's what he wanted to do," Presidential Pet Museum co-owner Dave Baker told the website in January.
Let's not give him any ideas.