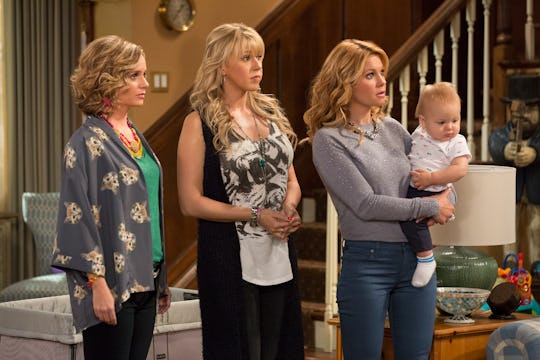 Michael Yarish/Netflix
Will There Be A 'Fuller House' Season 3? The Tanner Future Is Up In The Air
When Netflix brought back everybody's favorite '90s sitcom family with Fuller House, fans were thrilled that they'd get to see what the Tanner family had been up to in the two decades since the original show ended. Season 1 of the revival reintroduced the new main trio, DJ, Kimmy, and Stephanie, and set up their storylines for the series. There were plenty of fun throwbacks to the original show, cameos, and the sitcom antics that made the old series a classic. With the show's second season return, fans are already wondering whether there will be a Fuller House Season 3.
As of yet, there hasn't been any official renewal news about the show, but that isn't too surprising. While Netflix has a bit more leeway with traditional TV procedures – like House of Card's initial two-season order and Orange is the New Black being renewed for three more seasons at once – they still typically stick with the same model of season-by-season renewal that's employed by most networks. Specifically, that means the season will air, ratings and critical receptions will be reviewed, and then a renewal decision will be made at some point after.
Because Netflix drops an entire season's worth of episodes at once, that means, in all likelihood, we won't be waiting months to hear whether there will be more episodes of Fuller House coming our way. The first season of the show was much-hyped, given that Full House was such a beloved smash hit back in the day, so the renewal for the second season came within days of the first season's premiere. To give you a better idea, Season 1 premiered on Feb. 26 and the renewal news broke on March 2. That means we could theoretically learn about the future of the show before the end of the year.
While we'll need to wait for official renewal news, one recent behind-the-scenes development hints at the fact that we're all but sure to have more Fuller House in our future. Jeff Franklin, a veteran TV producer and the creator of Full House and Fuller House, recently purchased the original house used for the exterior shots of the Tanner family home.
In an interview with The Hollywood Reporter, Franklin explained that he hoped to be able to film in the house at some point, noting that he was "looking toward making the home a part of the new incarnation of the show, Fuller House." The interview also mentioned that Franklin is "hoping to hear from Netflix shortly about a season-three renewal, giving them an option to shoot in and around the home." I don't know about you, but that sounds like a good omen for Season 3's chance to me!