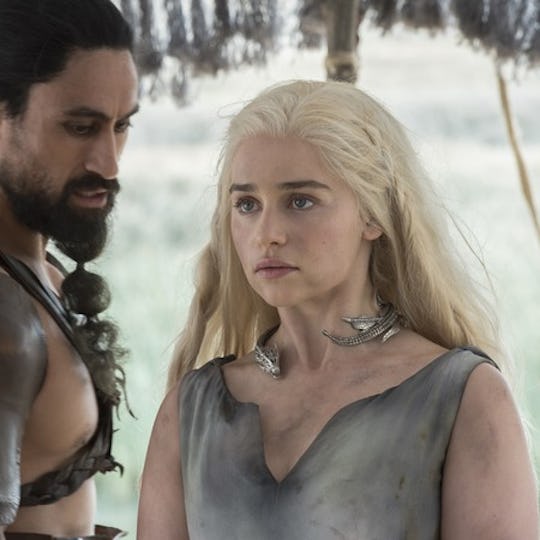 Macall B. Polay/HBO
Will There Be A 'Game of Thrones' Spinoff? If Not, Fans Are Going To Be Bereft
I try not to think about life after Game of Thrones. It's already difficult enough, trying to get busy with the small details of life between seasons. And now that HBO has announced that it will definitely, no joke, come to an end after Season Eight, I suppose the fans have to start making contingency plans for their Sunday nights. I suppose I could start hosting parties again, or cooking meals for the week... but wait! There might be hope! HBO might be messing with us (as is their wont), but there is speculation that there will be a Game of Thrones spinoff. Could this be true?
According to HBO's programming president Casey Bloys, Game of Thrones creators David Benioff and D.B. Weiss have not ruled out a spinoff for the wildly popular tv series about dragons and kings and all good things. During a summer press tour with the Television Critics' Association, Bloys said;
"It's something I'm not opposed to, but it has to make sense creatively. I'm open to it. The guys aren't opposed to it, but there's no concrete plans."
And now that there is that tiny door cracked open to the possibility, can we all just spend a few minutes speculating about how truly glorious that would be? Almost as glorious as this scene of Jon Snow and Sansa Stark hugging which makes me leak from my face every time.
If there is going to be a spinoff to Game of Thrones, one might assume that it would be based on The War of the Five Kings, Robert Baratheon's rebellion against the Targaryen family. It would make sense, especially considering the flashbacks we saw in Season Six with a young Ned Stark and his sister (who was at the crux of the rebellion), Lianna Stark. Fans like this girl right here would love to see Robert's Rebellion played out; also, there are loads of hints that Rheagar Targaryen was incredibly handsome, so I'm dying to see who they would get to play him.
It is possible, though, that a spinoff could be based much further back in the history of Westeros. Anyone who has read the books or even forked out the dough to buy that giant tome The Word of Ice & Fire: The Untold History of Westeros by George R.R. Martin, knows the possibilities are endless. There's the story of Bran the Builder and the creation of The Wall, the arrival of the First Men, or the incredibly involved, long history of the Targaryens (hint: The Mad King wasn't even the worst one).
Or, HBO could take the advice of Jaime Lannister. The Danish actor who plays Jaime, Nicolas Coster-Waldeau, would like to see a Jaime-Brienne spinoff. In an interview with The New York Times, Coster-Waldeau said;
When [Jaime and Brienne] spent that long journey together back to King's Landing and learned to trust each other, I think that was the first time Jaime ever spent time with a grown woman other than his sister. She represents the best parts of me and clearly there's a love and an attraction, but it's an impossible scenario. They're both dedicated to other people's needs. And I don't think they'll ever be able to put themselves first.
What do you guys think?