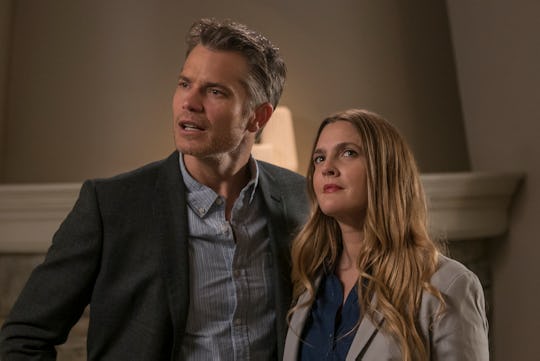 Saeed Adyani/Netflix
More Episodes Of Netflix's 'Santa Clarita Diet' Could Be On The Way
When Netflix introduced Santa Clarita Diet in 2017, you probably groaned about yet another zombie show coming to small screens everywhere, but you may have also been pleasantly surprised that the dark comedy is so much more than that. And now that Season 2 is here more than a year after the show's first season, it makes you wonder, will there be a Santa Clarita Diet Season 3? The zombie comedy might be a little darker or gorier than you'd anticipated, but as strange as it sounds, that's part of its charm.
Drew Barrymore started out as an average suburban wife and mother, but has progressed into a flesh-eating undead being who's also somehow full of life and a renewed sense of purpose. OK, so maybe that purpose is eating human flesh and internal organs, but at least she hasn't killed anyone of importance yet, right? The show's renewal came less than two months after its first season made its debut on the streaming service, but for Season 3, the jury is still out.
Since Netflix isn't as open as TV networks are about ratings and viewership, it's hard to determine the number of people who have been tuning in for the show so far, but the fact that the somewhat star-studded series got a second season is a good sign of things to come.
According to the show's Rotten Tomatoes reviews, Santa Clarita Diet is a hit with a score of 75 percent, and since the website relies heavily on viewer appreciation and opinions, that's definitely a good sign for how fans have been reacting to the series overall. That being said, Santa Clarita Diet Season 3 has not been officially announced, but it seems very likely it will be within a few months following the Season 2 premiere on Netflix.
It's also a good sign that more work and money has apparently gone into Season 2, including adding some new guest stars like Joel McHale, Zachary Knighton, Gerald McRaney, and Maggie Lawson. Barrymore and Timothy Olyphant are still the show's leads, trying to keep their marriage and family together while also trying to figure out how Barrymore's Sheila contracted the virus and how they might be able to stop the disease from spreading any further.
Although it would seem that neither Barrymore or Olyphant know anything about a third season for Santa Clarita Diet, they did tell Variety that they're both game, in the event that the show is renewed yet again. "I'm available and eager. I'm foaming at the mouth. Otherwise, I'm just working on my businesses for Flower," Barrymore said. "If this show went on for a long time, that would be the most comforting thing in the world." Olyphant added, "I'm free… This is it for me. I like this job. If I can figure it out, I'll call it a day."
Following the show's initial release on Netflix in 2017, there was some criticism about its use of blood and gore. While some may have not expected as much from what they thought to be a fun and campy comedy about zombies, it looks like the series isn't shying away from that anytime soon.
In the preview for Santa Clarita Diet Season 2, there's even more blood and gore than the dark comedy's first season. In one scene, Barrymore is holding a bloody heart that she may or may not have been snacking on and in another, the entire Pottery Barn-esque kitchen of their home is covered in blood, so things are definitely going to be staying in the same theme of humor and gore. And if Season 2 is as enthralling and entertaining as Season 1 proved to be, then there's no reason why Santa Clarita Diet won't be back for a third installment in early 2019.
Check out Romper's new video series, Romper's Doula Diaries:
Watch full episodes of Romper's Doula Diaries on Facebook Watch.