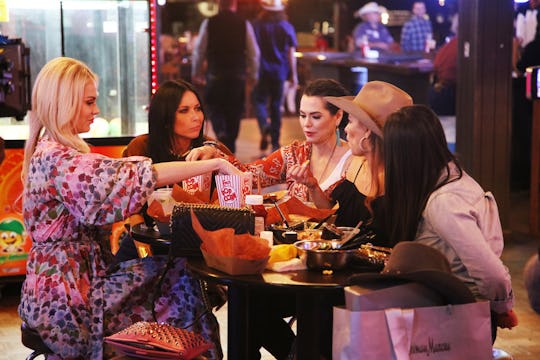 Peter Larsen/Bravo
Here's What We Know About 'Real Housewives Of Dallas' Season 4
The Real Housewives of Dallas returned this year with a longer season than ever. With 16 episodes, Season 3 inched the women closer to the full-length season the more established series in the franchise get, so fans are probably wondering: will there be a Season 4 of The Real Housewives of Dallas? Bravo hasn't made any official announcements yet, but if I were to guess, I'd say the Dallas ladies are in good shape.
With a longer season came more fleshed-out friendship (and feuding) dynamics, and the women even got to take an international girls' trip this season, like most of the other Real Housewives do. The only installments of the franchise that have ever been cancelled are The Real Housewives of DC, which got the ax after one season, and The Real Housewives of Miami, which ended after three seasons. The Real Housewives of Dallas has maintained steady ratings over its first three installments and so I think it's in good standing to move into the tier of a Bravo mainstay. Plus, LeeAnne Locken still wants a televised wedding and fans haven't seen one yet. That alone, given how much previous seasons have focused on her engagement, makes me think a Season 4 is basically a given at this point.
"Yes, I want you to see the wedding. I want you to be a part of the wedding," LeeAnne told E! last month. "I want you be through the whole journey. My girlfriend has a crazy idea for a bachelorette party, which I am humping the floor for. I am so excited. There's so much inside my brain that's going to happen and I'm dying for it all to happen."
Wedding planning has always been a grounding storyline for any Real Housewives season, so there certainly wouldn't be a lack of material for RHOD Season 4. And there's still tons of unresolved conflict between LeeAnne and her oldest friend on the show, D'Andra Simmons. I'm betting that can't possibly get resolved in the span of two reunion shows. Would Brandi Redmond get invited to the wedding? Would she receive an invite and then decline to attend? Will Stephanie Hollman get stuck in the middle? (Duh.) There's still plenty to mine here.
Then there's the future of D'Andra and Kameron Westcott's businesses, which have been in flux all season long. These women's careers and how they intersect with family obligations have been a fascinating peek into how "Dallas society" expects the women of family dynasties to behave. Fans are invested in seeing whether D'Andra can actually run her business separate from her mom's enterprise, or if Kameron can find a sustainable work-life balance without giving up on her dreams. The Real Housewives of Dallas clearly has unfinished business to take care of, and it seems pretty likely that fans will get to see it all play out next year.
This first-time mom wants to have a home birth, but is she ready? Watch how a doula supports a military mom who's determined to have a home birth in Episode One of Romper's Doula Diaries, Season Two, below. Visit Bustle Digital Group's YouTube page for the next three episodes, launching every Monday starting November 26.
This article was originally published on