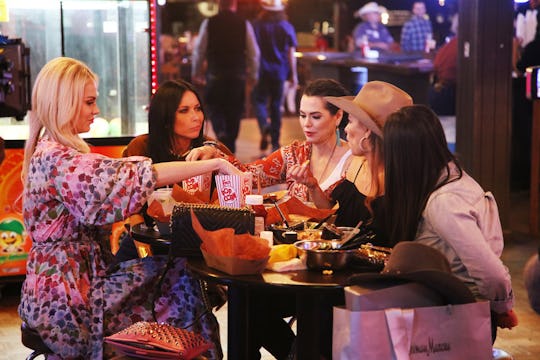 Peter Larsen/Bravo
Season 4 Of 'RHOD' Can't Get Here Soon Enough
It might be the youngest Real Housewives show in the franchise, but The Real Housewives of Dallas has felt like it belonged right from the start. It probably has something to do with the habitually warring cast, but the fighting and drama has led to a solid fanbase and now those fans are likely wondering, when is Season 4 of RHOD? Bravo hasn't officially renewed the show, so it's unclear if RHOD will be back at all. But given the way things played out over Season 3, I think the network would be making a huge mistake if they didn't give fans more.
The drama that unfolded between so many of the housewives this season could have easily lasted longer than the allotted 16 episodes. LeeAnne Locken and D'Andra Simmons, who were good friends long before RHOD, saw what appeared to be the official end of their friendship. After LeeAnne questioned D'Andra's financial issues earlier in the season, D'Andra alluded to LeeAnne's fiancé being unfaithful. This of course snowballed into more issues for the women, including LeeAnne allegedly accusing D'Andra of having a drinking problem.
Things went from bad to worse as almost all of the women this season seemed to have issues with someone else for different reasons and it was, in a word, a mess. Although details about RHOD Season 4 haven't yet been released, it's probably a good idea that there's another season for the cast to hash all of this out.
The past two seasons of RHOD both premiered in August, so chances are, Season 4 will come back in August 2019. Most shows in The Real Housewives franchise tend to stay on a predictable schedule, especially once they've gained their footing and have been on for a couple of seasons. So given the history of RHOD season premieres, it would make sense for Season 4 to come back at the end of next summer at the earliest.
That does beg the question of when an actual announcement could come from Bravo. The network didn't announce Season 3 until April 2018, a good five months after Season 2 ended. I know that's not what fans who are eagerly awaiting info about Season 4 of RHOD want to hear, but that could be what happens this time around. But if viewership numbers are the main deciding factor, I have total faith that RHOD Season 4 brought in enough to convince Bravo to give the show more airtime, come summer 2019.
The viewer numbers for Season 3 stayed in the 600,000 range, which is similar enough to both of the previous seasons to make it seem like that's more than enough to keep the show on the air. Though I don't think RHOD is in danger of a cancellation by any means and since there hasn't been a cancellation announcement either, that's definitely a good sign.
Unfortunately, none of the housewives have spoken about Season 4 or if they've heard any rumblings about filming just yet. That's not unusual since the season hasn't officially finished airing. There's still plenty of time for filming of Season 4 to begin and for the rumors to start swirling. I just hope that all of the women will be back in full force for Season 4, because at this point, the show wouldn't be the same without this overly dramatic dynamic between all of them.
Season 2 of Doula Diaries shares the stories of fearless doulas helping their clients take control of their births and make tough choices that feel right to them. Watch the first episode of the new season Monday, November 26th.