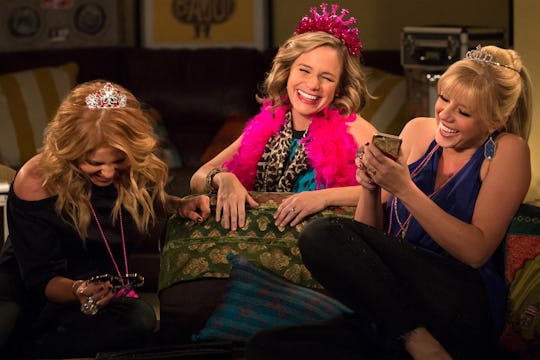 Netflix
Will There Be A Second Season Of 'Fuller House'? Critics Say No, But Fans Hope So
In an attempt to both revive beloved television shows of the past and create new content for the future, Netflix released the highly anticipated Fuller House on Feb. 26. A spin-off to the classic '90s sitcom Full House, the Netflix original follows the eldest Tanner daughter D.J. as she makes her way through single motherhood with the help of sister Stephanie and next door neighbor Kimmy. Though the 13-episode series has barely been out for 12 hours people are already asking will there be a second season of Fuller House. And the answer is. . . maybe.
Update: Netflix announced on March 2 that Fuller House will be renewed for a second season, according to Vanity Fair.
As of now, Netflix has yet to renew the series for a second season. Not to mention there are a lot of factors that will play into whether than Tanner-Fuller-Gibbler family will be back for round two. For starters, there's the availability of the cast. Although Jodie Sweetin and Andrea Barber have taken a hiatus from acting before reprising their roles as Stephanie and Kimmy, respectively, Candace Cameron Bure has been busy working. And one of her main roles is co-hosting The View, which films in New York City. If a second season were to happen, Fuller House films in Los Angeles, which would make commuting a real bitch for Cameron Bure. Although she did take a brief break from The View to film these 13 episodes, so perhaps she can do it again.
Then there's the story line to consider. The producers wrapped Fuller House up in a nice neat package. (Fair warning, I'm about to drop some serious spoilers ahead.) D.J. chose between Steve and Matty. Kimmy reunited with her ex-husband Fernando. And Stephanie proved that she will always be the voice of reason. They tied everything up and made viewers go "awe." That being said, they didn't tie things too tightly. Will Kimmy and Fernando pull a Becky and Jesse, and keeping living with D.J. and her brood? Will Stephanie settle down or return to her life on the road? Will Comet Jr. Jr. have more puppies? These questions, combined with modern-day topics, could all be tackled in a second season. (And even a third or fourth, if the producers feel so inclined.)
And, of course, there's the "expert" opinions. Fuller House has received less than stunning reviews from the TV critics, with some publications saying Fuller House doesn't deserve viewer's devotion. Ouch! Although that could be a nail in the series' coffin, Cameron Bure pointed out in an interview with E!, Full House was never well-received by the critics either. She also added that the stars didn't reunite to please the critics — they did it for the fans.
"It's a testament to what the fans want and not what the critics think," Cameron Bure told E! News. "If there are any negative review that's how we feel about it with Fuller House; we did this for the fans and we think they're going to absolutely love it."
And speaking as both a fan and a self-proclaimed pop culture enthusiast, I have to say that Fuller House does exactly what it's meant to do. It's not meant to be a show with morally complex characters or confusing plot lines that require a map to follow. (Though it does have a love triangle, because what good show doesn't?) It's meant to take you on a trip down memory lane, filled with familiar faces and classic one-liners. It's meant to be enjoyed after a stressful day of work when you don't want to think. It's meant to have moments that touch your heart, make you laugh, and even roll your eyes a little. Fuller House as all those things. . . dude. And so much more.
So choose to hate if you want. But I for one will be bothering Netflix for Season 2.