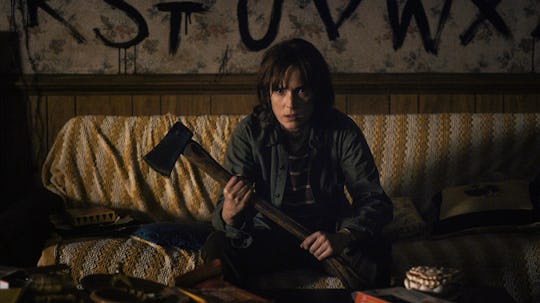 Will There Be A 'Stranger Things' Season 2? The Netflix Show Is Already Getting Some Buzz
Stranger Things on Netflix is set to be the new Netflix original in the horror/thriller genre we didn't know we needed in our lives since Season 2 of Hemlock Grove. But already fans are asking if there will be a second season of Stranger Things, and I'm not really surprised. Without giving too much away about the eight-episode first season, I can say for certain that it's going to be one of those shows that you Netflix and chill with the whole way through. You know, like almost every other Netflix Original show they've churned out.
Co-creator Matt Duffer revealed to IGN that, should there be an official pickup for Season 2 of Stranger Things, they already know where they'll go. With the first season being just eight episodes long, the Duffer brothers saw Season 1 as a sort of lengthened movie, which isn't a bad way to look at it. What horror/mystery fan doesn't love seeing the story unfold over and over until their mind is blown and they're all like, "whaaat?"
"The hope is that it feels satisfying but that we left room and that if people respond to it we can go back into this world. But if we do get to go back, it's not a second season as much as a sequel."
While there hasn't been an official renewal yet for Season 2 of Stranger Things, the genre of the show itself is enough to attract fans who may be feeling a void in their TV lineup while some of their other TV shows are on summer hiatus. So that alone will garner some serious viewers for the new Netflix show, not to mention the fact that, like I said, it's different from the comedies or dramas we've seen in many of the Netflix Original shows so far.
One of the stars of Stranger Things, Matthew Modine, let it slip that he's sure there will be a Season 2 of the show, but Netflix reps have still been quiet about whether or not they will continue the series after its first run. (Netflix did not confirm a second season when asked for comment.) Still, the results are in the numbers, and once Stranger Things is available for streaming on July 15, we'll see what the world thinks of the new Netflix series.
If you look at past Netflix shows, like House of Cards, Orange Is the New Black, and Jessica Jones, Netflix is never a one and done type of deal. Regardless, the creators obviously have a plan in place if they decide to go ahead and renew Stranger Things for a second season, and that's kind of half the battle.