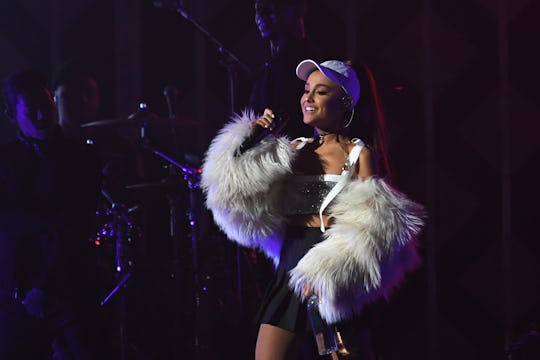 Daniel Boczarski/Getty Images Entertainment/Getty Images
Security At The Ariana Grande Benefit Is Tight
The night before Ariana Grande and a star-studded roster of other musical talents were scheduled to perform a benefit concert for the victims of the terrorist attack, which killed 22 outside the pop star's Manchester, England show last month, another terrorist incident rocked London. Seven people are dead and many other injured after three suspects plowed a van into pedestrians on the London Bridge and then began to stab patrons of nearby bars and restaurants Saturday night. It's devastatingly reminiscent of the suicide bombing that plagued the Grande concert less than two weeks ago. Which is just another reason that there will be extra security at the Ariana Grande benefit concert.
After news of the weekend's deadly attack in London, Grande's manager, Scooter Braun, released a Twitter statement affirming that the planned benefit concert would "not only continue, but do so with greater purpose." After all, Grande has teamed up with the likes of Katy Perry, Justin Bieber, Miley Cyrus, Pharrell Williams, Usher, Coldplay, Take That, and Niall Horan of One Direction not only to raise money for the We Love Manchester emergency fund, but to show those who wish to spread violence and hatred (such as the suicide bomber responsible the May 22 attack at Manchester arena) that they cannot force people to live in fear.
Still, with 50,000 people converging on Manchester's Old Trafford Cricket Ground, authorities have no choice but to boost security — not out of fear, but as a precaution to protect concertgoers' safety and to put their minds at ease. And with another major event — a friendly charity match for Manchester Untied soccer player Michael Carrick — taking place in Manchester at the same time, law enforcement officials had a lot of work to do to make sure that the night runs smoothly and safely.
According to NBC News, Greater Manchester Police Assistant Chief Constable Garry Shewan said in a statement on Sunday that additional security will definitely be in effect. And in a video on security the Greater Manchester Police put out ahead of the concert, chief superintendent and event commander Stuart Ellison offered attendees to both events tips on how to make the security process as easy as possible, like using public transportation instead of driving and avoid bringing a bag if possible. He also previewed what to expect, in terms of enhanced security:
I can understand some nervousness from members of the public, perhaps, but I can reassure them that, come Sunday, they will see a heightened police presence around both events, they will still continue to see overtly armed police officers at the gates and the areas of highest footfall, and that we … are in a position to hopefully provide some reassurance from them, but also to respond to any concerns they might have on the day.
And as attendees filed into the concert, which was slated for an 8 p.m. start local time Sunday, security's presence was palpable. As The Washington Post's Jennifer Hassan and Max Bearak described it, security was "heavy, almost omnipresent." "Police on horseback moved through the throng, as did officers with sniffer dogs," they wrote.
In a perfect world, security wouldn't be necessary at all. But this is the real world, so it's enough just to know that so many incredible people are working so hard to make a good thing happen safely.